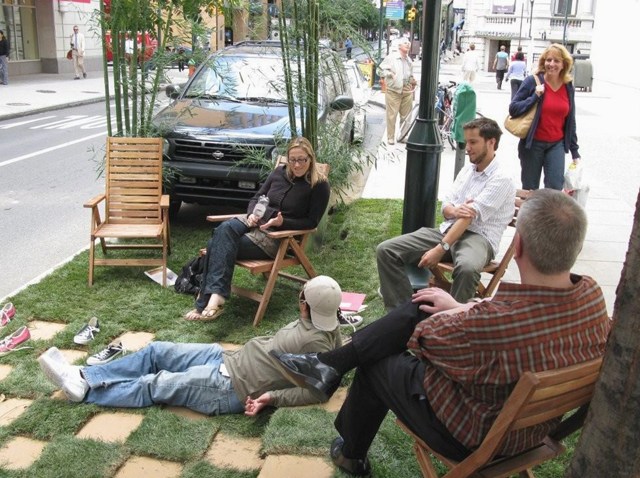 A-1 Chron today has a feature on the City's multiplying pavement parks and a somewhat new thing that the City's calling "parklets."
They are, of course, little more than PARK(ing) Day-style street parking, converted into miniature open spaces by the sidewalk.
According to the Pavement to Parks website, another parklet (following the Mojo Bicycle Cafe one) will be hitting the Mission on 22nd Street in late March, this one developed by Rebar Group, the very people responsible for PARK(ing) Day.
The Mission parklet will " explore the idea of modularity, allowing for a 'kit of parts' to be developed for possible future installations."
Meanwhile, following the official opening of two new pavement plazas, Showplace Triangle and Guerrero Park, Crocker-Amazon and Noe Valley will be joining the party.
Columbus Avenue's also slated to get a couple of parklets (in front of Caffe Roma and Caffe Greco), while Clement's on the list to get one in front of Toy Boat Cafe. A nice upside to park-spawning season? "It's pennies compared to a brand new park" — until maybe you decide to make it more permanent, at which point the upgrades cost a little more.
· S.F. plazas, 'parklets' spout, squeeze out cars [SFGate]
· Dolores Park Might Not Close Completely, Parking Planters in NoPa [Curbed SF]
· The Beefier, More Permanent Future of the 17th Street Plaza [Curbed SF]
[22nd Street Parklet via Rebar and Pavement to Parks]
Copyright CURBS