San Francisco paid a public relations firm hundreds of thousands of dollars for research that claims the city is near spotless, according to government documents obtained by the NBC Bay Area Investigative Unit.
The high rating appears to contradict San Francisco's own 311 complaint records, which reflect a continued spike in service calls concerning trash, used needles, and human feces scattered across the city's streets and sidewalks. According to data collected by the same public relations firm, JBR Partners, Inc., last year San Francisco was the cleanest the city has been in four years. During that same four-year span, however, complaints regarding human feces tainting streets and sidewalks nearly doubled to roughly 21,000 cleaning requests last year.
San Francisco hired JBR Partners, Inc., a self-described public relations agency, in an effort to assess progress within the Public Works Department, which is responsible for maintaining cleanliness along the city's streets and sidewalks. The firm's findings, however, have been deemed questionable and potentially inaccurate by members of the community and the city's own budget analysts and auditors.
City paid $400K for potentially 'flawed' research
"There is some concern that the performance measures, based on their methodology, might be flawed," said Dan Goncher, a public policy analyst with the city's Budget Legislative Analyst's Office. "Why are these performance measures showing improvement, when at the same time the number of complaints to the city has continued to increase year after year? That's a real head scratcher, I think, for the city right now."
PR firm, paid by SF, awards city near perfect cleanliness score
Public Works first hired JBR Partners in 2013 to survey San Francisco's streets and sidewalks. In an effort to assess the level of cleanliness across San Francisco, the company was contracted to walk the city in search of trash and filth, including broken glass, syringes, and human waste.
Based on the survey results, JBR Partners rated San Francisco's streets and sidewalks each year on a scale from 1 to 3 – 1 equated to "very clean," while 3 amounted to "very dirty." Last year, the firm awarded San Francisco's streets and sidewalks an average rating of 1.18 in commercial areas and 1.06 in residential neighborhoods – near perfect scores.
According the contract, the firm was required to randomly select and survey 94 residential corridors and 94 commercial corridors every six months, for a total of 376 evaluations each year.
So far, those findings have cost San Francisco's Public Works Department $408,745 as part of its contract with JBR Partners, which began in 2013 and runs through Oct. 8, 2018.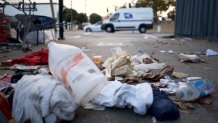 SF gets high marks despite increasing complaints about filth
After surveying streets and sidewalks last year, JBR Partners awarded San Francisco the highest cleanliness marks since the company began surveying the city in 2013.
Those living in San Francisco, however, appeared to notice more filth on the city's streets and sidewalks, not less. The city's 311 system received a dramatic increase in the number of complaints concerning a lack of cleanliness across the city during those same four years. Complaints about trash increased 40 percent, human waste complaints swelled 96 percent, and complaints concerning used drug needles spiked 228 percent.
[[493982851, C]]
JBR Partners did not respond to repeated requests for comment.
"There are still certainly questions around the degree to which cleanliness has improved on San Francisco streets and sidewalks," Goncher said. "What is at stake is whether the city can really have a good barometer on how it's performing and cleaning up the streets - and the use of public funds for that."
In the absence of clear data and amid lingering questions over job performance within the city's street cleaning division, Goncher recommended that San Francisco lawmakers refrain from implementing any long-term budget increases for Public Works. Earlier this year, however, the Board of Supervisors and Mayor London Breed opted to give the department a multimillion-dollar increase – $12.8 million in additional funds over the next two years. The current Public Works budget, $72 million, has grown more than 80 percent in just six years.
'Why is it like this?'
The department's ballooning budget doesn't sit well with Rickey Wilson, a 70-year-old jazz singer who has spent his entire career in San Francisco.
"Why is it like this? It shouldn't have to be," he said. "It's not supposed to be."
Wilson, who regularly walks the streets of San Francisco to perform at clubs and lounges across the city, doesn't believe the cleanliness ratings released by JBR Partners.
They're lying," said Wilson. "They can take it any way they want it. They can come see me if they want. It doesn't matter. I'm going to tell them the same thing I'm telling you now – they're lying."
San Francisco's dirty streets made national headlines following an NBC Bay Area investigation in February, which revealed a dangerous concoction of drug needles, garbage, and feces lining the streets of downtown San Francisco. The Investigative Unit surveyed more than 150 blocks, including some of the city's top tourist destinations and discovered conditions that infectious disease experts considered comparable to some of the worst slums in the world.
SF pays millions more for street cleaning than other major cities
San Francisco pays millions more to clean its streets and sidewalks than several other larger cities with even bigger populations, including Chicago, San Diego, and San Jose, according to a recent report by the San Francisco Budget Legislative Analyst's Office. In fact, Los Angeles is 10 times larger than San Francisco and collects nine times the amount of trash, but San Francisco still spends about $20 million more on street cleaning each year.
"Every penny of work that a public worker does is worth it," said Mohammed Nuru, director of San Francisco Public Works. "We have to be responsible for making sure that our city continues to be one of the best places in the world."
Nuru takes issue with comparing San Francisco's expenses because, he says, his department receives a higher volume of street cleaning requests than other cities across the country.
During the 2017 fiscal year, San Francisco received 77,091 service requests while other cities received far fewer: Los Angeles, 5,800; San Jose, 9,000; Baltimore, 32,553, and Chicago, 1,271, according to data released by the Budget Legislative Analyst's Office.
We're doing what people expect of us," Nuru said. "We still have room to grow, but we're moving in the right direction."
In April, during Mayor Mark Farrell's six months in office, San Francisco unveiled a new partnership with the San Francisco AIDS Foundation to create a new 10-person crew to pick up and discard used syringes across the city. In August, the Public Works Department announced plans to dedicate a five-person team to regularly clean human feces off streets and sidewalks. San Francisco also recently opened five more staffed, public restrooms as part of the city's Pit Stop Program, which now boasts 23 public toilets across the city.
In light of San Francisco's seemingly unprecedented clean-up efforts, some are confused how a city in need of such extreme measures could manage to score such high marks for cleanliness even before many of the new initiatives were implemented.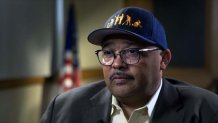 'A report is what it is'
As for the assertion made by JBR Partners that the city's streets and sidewalks are near pristine, Nuru said "a report is what it is."
He added, "I take information, and I try to translate it to the best way [so] that I can understand what it is saying."
The survey data is being collected as part of a 2003 voter mandate that began requiring San Francisco to establish performance standards for street and sidewalk maintenance.
San Francisco's auditing division, within the Controller's Office, is responsible for reviewing those standards and issuing performance reports. While the Controller's Office helped design the city's cleanliness surveys, the office now has concerns the information collected may not be accurate. In fact, the office had such little confidence in the survey results that it decided to forgo issuing its scheduled 2016-2017 cleanliness evaluation report of the city's streets and sidewalks.
"We are trying to get representative samples to get a sense of how the city is doing over time," said Ben Rosenfield, City Controller for San Francisco, who acknowledges current survey methods are not yielding useful results.
"This is the year we decided to do something bigger that leads to better results," he said.
Rosenfield, who declined to be interviewed on camera, said his office is now partnering with Public Works to overhaul the way San Francisco measures cleanliness and expects to finalize new guidelines in the coming months.
"The purpose of our review is to get to something that is answering the question: 'Is the city dirtier or cleaner than the year before?'" he said. "We have questions about whether the methodology we've used actually answers that."
______________________________________
Need to contact our Investigative Unit?
• You can remain anonymous
• 1-888-996-TIPS
______________________________________