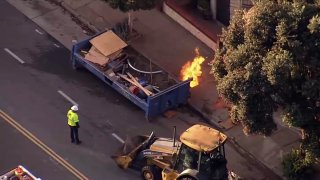 Residents near San Francisco's Alamo Square were forced to evacuate Thursday afternoon due to a gas leak and fire.
Officials said construction workers hit a service line on the 1000 block of Fulton Street, which caused the gas leak. One adult suffered a minor injury and no structures were damaged.
Aerial views from the NBC Bay Area SkyRanger showed flames shooting up from a sidewalk. A PG&E crew later arrived and shut off gas that was fueling the flames.