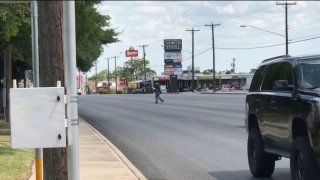 State assemblymember Phil Ting (D-San Francisco) on Wednesday announced he's proposed legislation to decriminalize jaywalking, which he said, is often arbitrarily enforced and disproportionately affects people of color.
Assembly Bill 2147, The Freedom to Walk Act, would decriminalize jaywalking when the roadway is clear to cross.
The bill, authored by Ting, is the assemblyman's second attempt to decriminalize jaywalking in California. In March 2021, Ting introduced the similar AB 1238, but the bill was ultimately vetoed by Gov. Gavin Newsom.
Instead of repealing the state's jaywalking laws, the new bill would instead clarify an officer can only approach a pedestrian for jaywalking when there is immediate danger of a collision, according to Ting's office.
"It's time to reconsider how we use our law enforcement resources and whether our jaywalking laws really do protect pedestrians, especially when we are trying to encourage people to get out of their cars and walk more for health and environmental reasons," Ting said during a briefing.
In addition to clarifying protocols for jaywalking stops by police, Ting's proposed bill would also legalize crossing outside of crosswalks or against traffic lights when safe, thus eliminating fines.
According to Ting, jaywalking citations are often times disproportionality given to low-income people and people of color, resulting in fines totaling hundreds of dollars. Jaywalking citations are also sometimes used as a pretext by law enforcement to stop people of color, Ting said.
Ting cited recent cases where jaywalking citations involving Black people resulted in tragedies, including the 2020 fatal shooting of Kurt Reinhold by Orange County deputies during a confrontation over jaywalking; the 2018 death of Chinedu Okobi after being tased by Millbrae police for allegedly jaywalking; and the 2017 beating of Nandi Cain by Sacramento police after they accused Cain of jaywalking.
According to data from the California Racial and Identity Profiling Act, Black Californians are up to four and a half times more likely to be stopped for jaywalking than their white counterparts.
"These laws are not only discriminatory, but also lead to harmful - and, in some cases, deadly -- encounters with police," Lawyers' Committee for Civil Rights of the San Francisco Bay Area Equal Justice Works Fellow Rio Scharf said. "It's time to finally decriminalize walking."
Copyright BAYCN - Bay City News