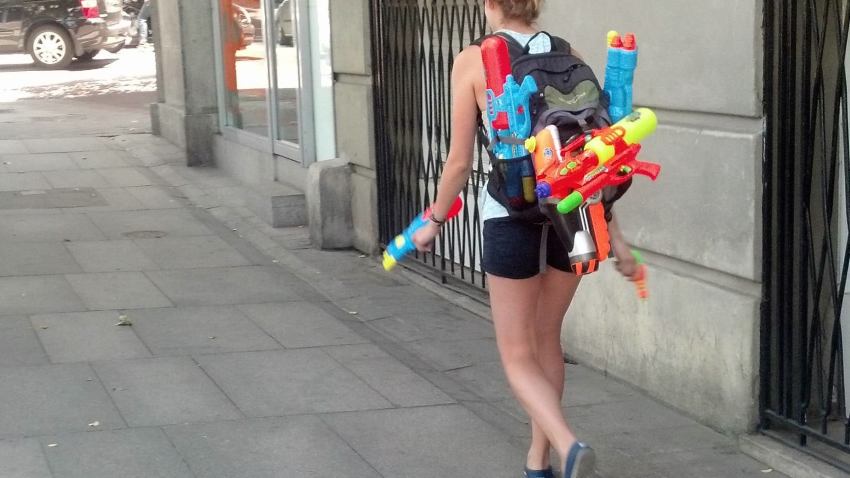 Regardless of the weather forecast, some San Franciscans are going to get wet starting Sunday.
StreetWars, described by organizers as a water gun assassination tournament, is coming to the city between Sept. 27 and Oct. 24.
The spy game draws on the rules of "Assassin" and encourages participants to "find" and "kill" targets using colorful water pistols, water balloons or super soakers. But a line is drawn at anything that "remotely resembles a real firearm," according to StreetWars' organizers, the so-called Shadow Government.
The game is not without controversy though. In the past, it has been played in New York, Los Angeles, Paris and London, and has been criticized by law enforcement officials along the way. The San Francisco Police Department did not respond to a request for comment.
According to StreetWars' rules, solo "agents" or at least one teammate must live and work in San Francisco.
"You can pose as a delivery person and jack them when they open the door, disguise yourself and take them out on the street," its website says.
On Saturday night, participants will be provided with their targets' name, phone number, email address, home and work address, and, most importantly, photograph.
After that, players must come out with water guns blazing and make a minimum of one kill attempt per week. "Stalking" doesn't count while one drop of water counts as death, the game's organizers stressed, adding that a kill passes on the victim's target to the assassin.
Participants cannot be struck in no-kill zones, including the city block where they work, on all forms of public transit, and in hospitals, government buildings and bars. However, being in a restaurant or parking lot does not offer the same protection.
Also, bystanders can be collateral damage in the watery free-for-all.
The assassin left standing after the three-week run will win a cash prize. Registration, which has now ended, costs $60.
For more information, visit the site.