Rishik Gandhasri, a seventh-grader at Silver Oak Elementary School in San Jose, was one of eight co-champions Thursday in the finals of the 92nd annual Scripps National Spelling Bee, held at the Gaylord National Resort & Convention Center, Fort Washington, Maryland, and televised on ESPN.
Gandhasri has become an overnight celebrity winning an eight-way tie after competing in 20 rounds.
"I just feel super happy, I didn't think I was going to win, though I was going come back another year honestly," Gandhasri said.
Friends and teachers of Chaboya Middle School are proud of their friend and student.
"I didn't know I would be able to be friends with somebody able to do such amazing things," friend Adin Gharibadeh said.
Students and faculty are planning a party Monday to welcome back a national champion winner who went toe-to-toe with the nation's best.
"It is such an honor to have such an amazing student attend Chaboya Middle School in the Evergreen School District," acting superintendent San Deguara said
Gandhasri was sponsored by the Bay Area Regional Spelling Bee based in San Francisco.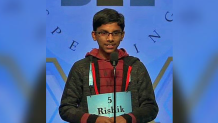 He was previously the winner of the second annual Santa Clara County Spelling Bee as a fifth-grader at Silver Oak, which is in the Evergreen School District.
"Spellers compete from all 50 U.S. states, several territories and other countries including the Bahamas, Canada, Germany, Ghana, Jamaica, Japan and South Korea," according to the event website.
Copyright BAYCN - Bay City News