San Jose city leaders Tuesday night approved a $7 million plan to reverse the trend of rising pedestrian and bicyclist deaths across the city.
The City Council unanimously approved the funds for the city's Vision Zero plan, a traffic safety initiative to eliminate pedestrian and bicyclist deaths and severe injuries.
The plan identifies 17 "priority safety corridors" that account for the highest rate of pedestrian fatalities and injuries (highlighted in the map below).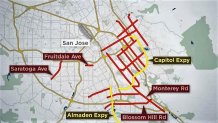 In the five-year span from January 2014 to December 2018, the city recorded 1,458 pedestrian crashes, 105 of which were fatal, according to city data. Another 209 of those involved severe injuries.
Twenty-nine pedestrians were killed in 2019.
Over the same period, there were 1,509 vehicle-bicycle crashes; 20 were fatal and 113 resulted in severe injuries, the data shows.
The Vision Zero plan calls for the following installations along the identified roadways:
Rapid flashing beacon: A traffic control device that combines pedestrian warning signs with user activated LEDs at crosswalks to alert motorists to the presence of pedestrians and cyclists crossing.
High-Intensity Activated Crosswalk (HAWK) signal: A traffic control device using overhead yellow and red lights to stop road traffic and allow for protected crossing of pedestrians and cyclists when needed.
Marked, secure bike lanes: Various stages of progressively safer, marked bicycle lanes correlated with the amount of traffic on the roadway.
Radar speed sign: A traffic calming device designed to slow down speeders by alerting them of their actual speeds relative to the posted speed limit.
Curb extensions (also known as bulb-outs): Sidewalk designs that extend the walkway into the parking or travel lane to narrow the roadway and increase pedestrian visibility.