Imagine baking 1,055 pies for hungry tech employees in Silicon Valley on a deadline.
For many, this sounds like a tall task, but home baker Voahangy Rasetarinera makes it look easy.
"We're in the Bay Area, there's a lot of tech people and they all like 'Pi Day,'" Rasetarinera, who owns The Giving Pies, said. "So they all want their pies."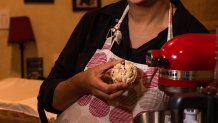 Pi day is a celebration of the mathematical constant Π, or 3.14 and for many people in Silicon Valley, there's no better way to enjoy Pi Day than with a slice of pie. In order to prepare for the mass production of pies, Rasetarinera prepared all her ingredients a week in advance.
"I started preparing my crust like last week," said Rasetarinera. "Then making all my fillings and then tomorrow will be the big baking day."
The Giving Pies has been in business for the last two years and it's already making strides in the San Jose community.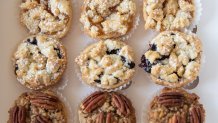 "I didn't want to just sell pies, I wanted to have an impact," said Rasetariner. "That's why I decided to give some of my profits to an organization called E-Sports to help kids with special needs play sports."
E-Sports, which stands for Exceptional Sports, is an organization based in the Bay Area dedicated to empowering kids with special needs to their full potential.
Since she started baking, Rasetarinera has donated a portion of her profits to the organization and she plans to do so every year she's in business. But ultimately, she hoping to make an even bigger impact in the next few years.
"I want to open a cafe where I can employ adults with special needs," she said.
She's hoping once her daughter finishes high school, she can focus her attention on making her cafe dream a reality.