A detective with the San Jose Police Department has taken it upon himself to rally on behalf of a young boy whose life was seemingly permanently altered when he was struck by a stray bullet.
Nine-year-old Alexis was sleeping in his bed on Oct. 28, 2015, when his upstairs neighbor Eric Smith accidentally shot himself in the foot with a hunting rifle. The bullet pierced the floor and traveled through the child's legs, severely damaging them.
Detective Huan Nguyen told NBC Bay Area that in his line of work, he often comes across people who "put themselves in danger."
But not Alexis.
"He didn't do anything," Nguyen said. "He was sleeping in his own bed and just being a kid. It's just hard to take because your home is supposed to be your haven."
Nguyen and his wife came up with the idea of setting up a YouCaring page to raise funds for Alexis.
"He loved to play soccer, but may never play again because of the severity of the injuries," said Nguyen, who is a father of two children who are close to Alexis' age. "It's very sad."
As of Tuesday evening, 55 people have donated $3,980 of the $50,000 goal.
"I was dreaming about my soccer game from the last weekend and how I missed a goal when I was woken up by a loud explosion and my legs started to hurt," Alexis told Nguyen, according to the crowdfunding account. Pictures show the curly-haired child with a boot on his left leg and a brace on his right.
Police said they were called to the Almaden Apartments on the 1900 block of Almaden Road around 5:45 a.m. Oct. 28. Investigators found that a bullet had traveled through the floor of the upstairs apartment and hit Alexis, who lives in a first-floor unit of the two-story duplex.
Eric Smith, a 40-year-old convicted felon, fired the .30-06 rifle and hurt the boy, according to police. Smith has been arrested on suspicion of negligent discharge of a firearm, being a felon in possession of a firearm and being a felon in possession of ammunition.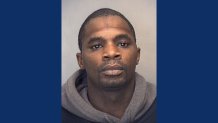 "When he first got hit with the bullet, a portion of his leg was blown off," Nguyen said.
Alexis was sleeping on his side and the bullet traveled through the ceiling and entered his right leg right below his knee. It then went into the left leg and fragmented the bone.
"We picked up pieces of human tissue and bone in the room," Nguyen said, adding that doctors initially left his wound open to allow bone and tissue to regenerate and then inserted a metal rod in his right leg.
After Alexis was shot, Nguyen started visiting him regularly in hospital.
"I tried to cheer him up and get him video games and stuff, but that's only good for so long," he lamented.
Nguyen also realized that the shooting has left Alexis with severe post-traumatic stress disorder, which has been "lingering for months," he said.
The detective recalled a conversation with a nurse who told him about Alexis having one particularly bad night.
"Someone dropped something in the hallway, and it was loud, and Alexis freaked out for hours," Nguyen said. "He was shaking and crying."
Even after Alexis' release from hospital, the detective has made it a point to check in with the family regularly. But it bothers him that the child is now forced to spend day after day in the same apartment in which he was shot – where "bad things happened to him," Nguyen said.
According to Nguyen, the donations will go into a trust fund and remain "protected" for Alexis and his future. It remains to be seen whether the money will be used to pay for ongoing medical expenses, a college fund, or to help move the family to a different home.
"We need to help him and his family to just get away from that environment that he was in," Nguyen stressed. "Hopefully that helps him move on with his life."
Today, nearly five months after the shooting, Alexis has undergone multiple surgeries, but remains in a wheelchair.
Nguyen said that "everything is up in the air" because doctors can't definitively say if he will able to play sports or do other activities like children of his age. His road to recovery will be long and tough, he said.
"We initially thought he was going to lose a leg," but luckily his doctors were able to avoid that scenario, Nguyen said.
Alexis' mother, who declined to talk to the media, has been receptive to Nguyen's crowdfunding effort. Every donation helps and she is grateful for the outpouring of support from the community, he said.
"He's a trooper – he's gone through a lot, but handled it pretty well for his age," Nguyen said. "We are all rooting for him."