For someone who has been on this earth for 21 trips around the sun, Kayla Jimenez has had an awfully small orbit.
In her bedroom of her family's Willow Glen home, painting and drawing, is where she has spent a considerable amount of her life.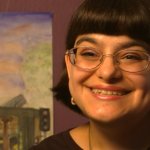 Jimenez says there just aren't many other places where she feels comfortable.
"Well, having disabilities, I think I'm different," Jimenez said.
Jimenez's disabilities (learning disabilities, Autism Spectrum Disorder, and Cerebral Palsy in her legs) can be traced to her premature birth with twin brother Chris Jimenez.
"Chris had a 50-50 chance of being born alive," Kayla's mother, Shelly Jimenez said. "Kayla had a zero percent chance."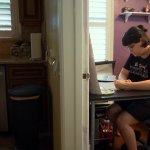 In spite of those odds, it is Chris Jimenez who is the more disabled of the two. Caring for him, Shelly says, is why the family spends most of their time at home. "24/7 pretty much," she said.
About the only time Kayla would venture away from home is to walk along Lincoln Avenue in Downtown Willow Glen. On her strolls, though, she would rarely talk or interact with anyone else.
"I've never really had friends," Kayla said.
Which explains all that time doing art in her room. Enough time, in fact, Kayla got really good at it, although no one outside her family knew it.
Then, one day, during one of those walks downtown she stopped to sketch the iconic Garden Theater. A family member was so impressed with the piece she suggested Shelly email a picture of it to Pierluigi Oliverio, Councilmember for San Jose's 6th District which includes Willow Glen.
"I didn't think I'd hear anything about it," Shelly said.
But Oliverio forwarded the artwork on to Michael Mulcahy, the owner of the Garden Theater. Mulcahy loved the sketch and sent an email asking if he could hang it in the lobby of the building. He had no idea about Kayla's history and disabilities.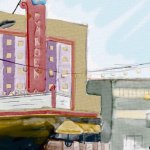 "I just loved the art," Mulcahy said.
"I wanted to cry," Kalya said. "A stranger wanted my art. At the time, it was the biggest thing that had ever happened to me."
The biggest, that is, until others noticed the artwork and wanted to meet the artist.
Bob Paez, the owner of the Garden Theater Barber Shop, asked Kayla to paint a couple of pieces for his store.
Mulcahy came back and asked Kayla if she would paint a picture of The Table, a restaurant down the street in a building he also owned.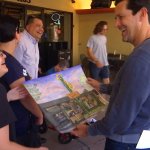 When Kayla now walks down Lincoln avenue she can not only see her works displayed, she has friendly faces she can stop and talk with.
"I'm so glad I got to know Kayla," Mulcahy said.
Shelly says it is her family that is truly grateful to those who have taken an interest in their daughter's talents and, by consequence, have expanded her horizons.
"They will never know how much this means to my family," Shelly said.