Santa Clara County District Attorney Jeff Rosen on Tuesday announced the indictments of 39 male and nine female defendants in a criminal gang case involving alleged murder, robbery, drug sales and weapons charges.
Rosen discussed the wide-ranging, 77-count indictment during an hour-long news conference.
"This is a sophisticated, complex criminal organization that required a sophisticated, multifaceted law enforcement and prosecutorial response," Rosen said of the investigation.
The indictment alleges the 48 defendants took part in the Nuestra Familia criminal gang organization in Santa Clara County from 2010 to May 30 and conspired to sell methamphetamine, according to the indictment.
The charges were handed down following testimony from 84 witnesses before the Santa Clara County grand jury.
Officials released the names of the fugitives still being sought:
Alex "Smokey" Bettencourt
Valerie Bergara
Juan "Rico" or "Juanito" Carrasco
Sheila Franco
Brian Faultner
Jose Luis "Looney" Garcia
Cristian Kantun
David "Boots" Marquardt
Mathilde "Dreamer" Ramos
Before the news conference, Renee Hessling, defense attorney for two men charged in the indictment, said it was hard to imagine 48 people in one criminal case, which she quipped would have to be heard "in the HP Pavilion."
"This has never been done in this county before," Hessling said. "I think it's politically charged. They want to take charge against gangs."
Instead of holding many hearings that could take years, the district attorney likely wants to strike deals where the defendants plead guilty to gang charges that would stay with them for life, Hessling said.
According to the 47-page indictment, the Nuestra Familia's activities began prior to June 10, 2010, when gang member Martin Vasquez "Cycs" Martinez was arrested and handed over control to his brother, Angel Kiko "Young Buck" Martinez. Angel Martinez "established street regiments" in the county to further criminal acts by the gang, according to the indictment.
Sometime after Jan. 1, 2011, Nuestra Familia gang member Antonio "Sombra" Villagrana assigned Luis "Wicked" Barrios, just released from Corcoran State Prison, to operate out of Gilroy.
In November 2011, a Nuestra Familia cohort, Larry James "Conejo" Lucero, got out of prison, took over the gang from Barrios and with Villagrana, Martin Martinez and George "Creeper" Pacheco ran the group's crime activities.
The grand jury charged Lucero, the Martinez brothers, Pacheco and two others with conspiracy to sell cocaine during the period.
Pacheco and five defendants are listed as accused of 15 other crimes in the armed robberies of branches of the Postal Credit Union, US Bank, Alliance Federal Credit Union, Chase Bank, Bank of the West and Bank of America, all in San Jose.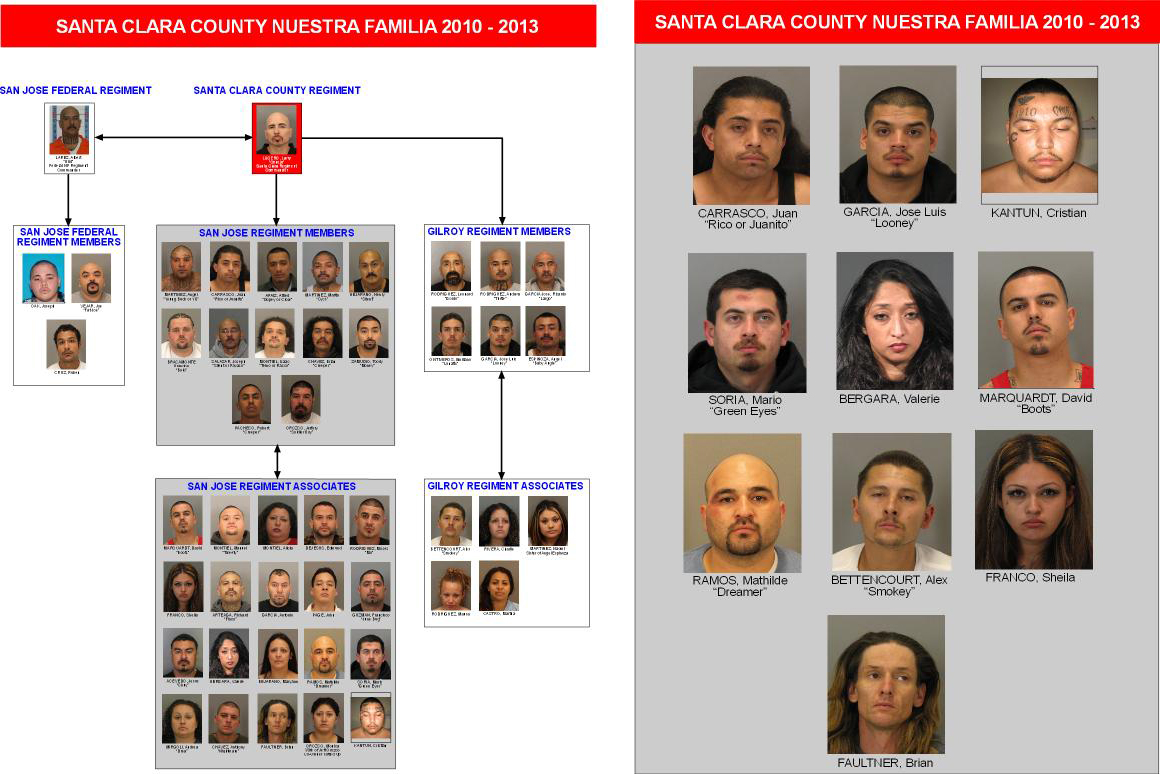 In one case, on Dec. 29, 2011, defendant Martha Frances Castro allegedly entered the Alliance Federal Credit Union on Snell Avenue with a fake bomb and used it to threaten employees and obtain cash from them.
Luis Barrios allegedly also used a phony explosive on Jan. 12, 2012, to intimidate workers during a robbery of the Bank of America on Snell Avenue, the indictment reported.
Castro, Pacheco and others are also charged with second-degree robbery for allegedly demanding that bank and credit union tellers turn over their personal property during the robberies.
Other alleged crimes perpetrated by the gang included making criminal threats.
Pacheco and Moses Joseph Rodriguez are accused of threatening to kill or hurt people while Manuel Paul Montiel, Andrea Yvonne Mirgoli, Angel Solomon Espinoza and Naomi Pearl Martinez were charged with making physical threats to witnesses of alleged crimes.
San Jose police put out a news release today announcing the Washoe County Regional Gang Unit in Reno had arrested Rubin Cruz, one of four men included in the indictment charged with shooting Martin Chacon, 38, to death on Aug. 13 while he sat in his car near Oakland Road and Charles Street.
The indictment charges Cruz, Angel Martinez, 30, Alberto Jose "Bird" Larez, 44, and Josef Ryan Oaks, 24, with murdering Chacon while members of the Nuestra Familia gang.
Other allegations in the indictment included participating a criminal street gang, possession of prohibited weapons -- such a silencer, an assault weapon and short-barreled rifle or shotgun -- and a felon in possession of a firearm.
Copyright BAYCN - Bay City News