Branham High School's Winter Wishes event is a yearly production put on by teenagers with the proven ability to bring grown adults to tears.
For the past eight years, students in Branham's leadership class have asked every student and staff member at the school to make a wish. They can make the wish for themselves or someone else.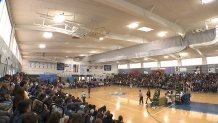 The leadership class then sets out to grant as many of them as possible.
The smaller wishes, like wishing for donuts to be delivered to a class, are granted throughout the fall but the larger ones are held until an assembly held in December in front of the entire school.
It is an amazing hour of generosity in the gymnasium.
Students wish for financial help for their friends and family. Others wish to thank teachers or coaches who have had a positive impact on their lives. This year, a group of a dozen friends all asked for the same thing: to pay for a classmate's braces. The leadership class raised $6,000 to make it happen.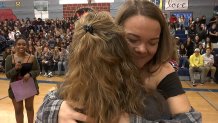 One spot in the program, however, is always reserved for a certain type of wish: the student who wants to share a personal story.
This year, that was Senior Rose Gipstein's wish.
"I really want to get this story out there," Gipstein said. "I really think this is important."
Gipstein has struggled with depression and self-harm for much of her young life, both in New Jersey and then after moving to San Jose two years ago.
"I was completely paralyzed with overwhelming feelings of anxiety and depression and hopelessness that I felt that the only way to feel alive was to resort that sort of behavior," Gipstein said.
It all came to a head last year when Gipstein was sent to a residential facility for five weeks. She says her time there finally gave her a start toward recovery.
It was this story Gipstein told at the rally. It is an intensely personal experience to share with anyone ... but to do it in front of everyone?
Gipstein says it is the Winter Wishes magic that makes such bravery possible. It creates an overwhelming atmosphere of acceptance no matter who you are.
"It's amazing. Honestly, words cannot describe it," Gipstein said.
Gipstein only hopes that the words she did share in the gym touch another student who feels like she used to. She wants them to know that, during their troubled times, their classmates wish nothing but the best for them.