Jake McCluskey does not back down from a challenge, even if it means having to run through every street in the heart of Silicon Valley.
McCluskey, a San Jose resident, got his city's logo tattooed on his leg after running every avenue, block, court, corner, street in town. Even San Jose Mayor Sam Liccardo took notice by posting about the tattoo on social media.
In October 2016, McCluskey challenged himself to run San Jose and 17 months later on Super Bowl Sunday, he achieved his goal.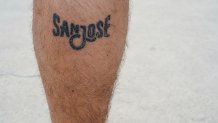 "I've always been the type that works better off a challenge," McCluskey said. "A friend of mine had done Livermore and I thought what an incredible way to see San Jose than on foot."
Although McCluskey has been living in the Bay Area for years, many places he encountered in his runs surprised him.
"I underestimated greatly how hilly San Jose actually [is], but you get to really see the true landscape of San Jose and it's literally all over the map," McCluskey said.
Before being a runner, McCluskey was 380 pounds and a smoker, but in 2013 he made the decision to live a more active and healthier life.
After completing the challenge to run every street in his San Jose, McCluskey looked for a way to commemorate his accomplishment and ultimately decided to ink the new city logo on his left leg.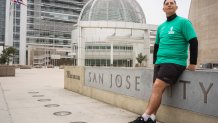 His tattoo quickly caught the attention of many local residents and Liccardo quickly vowed to get the same tattoo, but at a price: 1 million retweets.
"My staff dared me to follow Jake's example, so I told them I'd do it for 1M retweets," Liccardo said in a tweet.
Liccardo concluded his tweet with a message to his wife, "Don't worry, they tell me it's impossible!"
So far, Liccardo has received over 1,800 retweets.