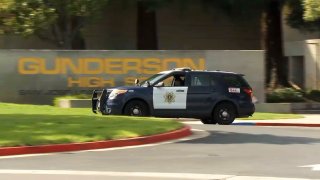 A student was stabbed at Gunderson High School in San Jose Monday morning after a fight between students broke out, police said.
The student who was stabbed suffered non-life threatening injuries, police said. A suspect, also a student, was taken into custody.
Police initially said they were responding to reports of a double stabbing at the campus.
One student sustained injuries bad enough that police originally thought he had also been stabbed, police said.
The San José Unified School District said a campus officer "quickly stopped the violence and apprehended the suspect."
The school was never placed on lockdown or under a shelter-in-place order, the district said.
"San José Unified is working with SJPD to investigate the incident, and while that investigation in ongoing, school is continuing as scheduled," the district said in a statement. "In addition, our crisis support team is on site to provide support to students and staff at Gunderson High. The safety of our students and employees is our top priority. We will continue to work with our employees and law enforcement to ensure our schools are as safe as possible for our students and employees."