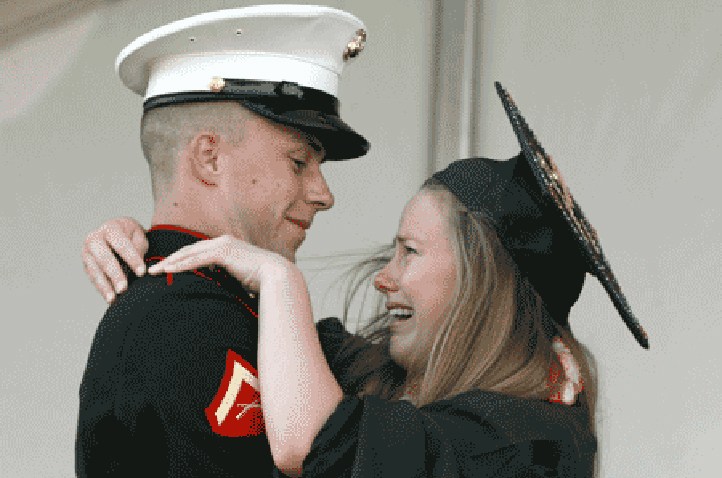 Graduating from college is one of the most memorable moments in a person's life. It's a right of passage. A goal met. A marking in time.

For a San Jose woman who graduated from Cal Poly over the weekend, it was also the a moment that brought the audience to their feet; many of them in tears.

New college grad Jessica Freedman was surprised on stage by her brother Eric, who returned from duty in Afghanistan a little earlier that planned.

Instead of a handshake and a diploma as she walked across the stage, Cal Poly Dean Phil Bailey pulled Jessica to his side and said, "I'm going to stop you right here." He went on to say that her father had called him and told him that she was missing having her brother there because he was serving in Afghanistan. He said he knew what the felt like, because he had a son in Iraq.

Right then, Jessica started to cry.

Then the dean asked "Jessica, do you see your brother?" (Who had slipped on to the stage in his dress uniform.)

Jessica screamed. The audience cheered and U.S. Marine Corps Lance Corporal Eric Freedman opened his arms to embrace his big sister.

Both graduated from Leigh High School in San Jose and their parents say they are very close and had not seen each other in seven months prior to Saturday.

The reunion was short lived. Eric had to rejoin his unit in Twentynine Palms after a celebratory dinner in San Luis Obispo.

As for the surprise, Eric told the Mercury News from his perspective it was "better than he expected."
Get a tissue:
KSBY television caught the story early and ran it on local television in San Luis.