A San Jose State University student died over the weekend during a trip with campus students and staff at Sequoia National Park, SJSU President Mary Papazian said in a letter to the campus community.
The student, identified as William "Billy" Nguyen of San Jose, was a second-year kinesiology major. Nguyen and other members of the group were swimming in a lake Saturday when he reportedly struggled and sank beneath the water's surface, Papazian said.
"The group tried unsuccessfully to rescue him," Papazian wrote in the letter. "A search and rescue team has recovered his body; the Tulare County Medical Examiner is determining the cause of death."
The group was at Sequoia National Park as part of SJSU's Outdoor Adventures recreation program.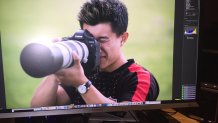 Nguyen was a student assistant for the outdoor program and was among five staff members on the trip, Papazian said.
"He has been described to me as someone who, while sometimes reserved, loved group activities and wanted to inspire others to join in and be active," Papazian wrote in the letter. "His interests included fitness and outdoors activities. He enjoyed working out and getting others to do the same."
Papazian in the letter also said is "heartbroken for the Nguyen family."
"Please keep Billy, his family and friends in your thoughts and your hearts during this difficult time," Papazian said.
Counseling services were being made available to students.