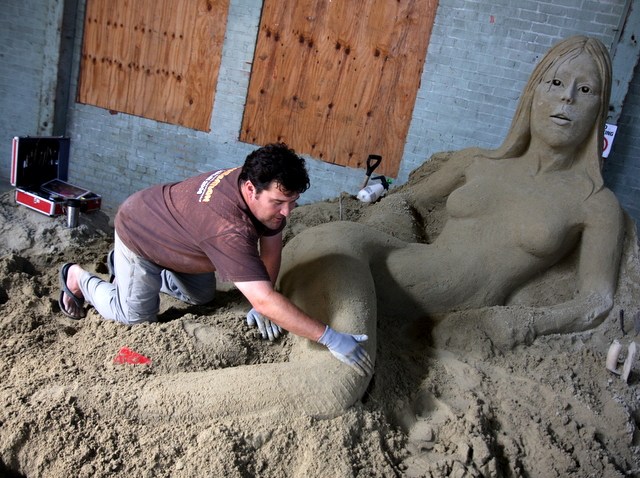 "The voice mailbox you are trying to reach is full," is the response one gets when trying to call Dan Das Mann in the days leading up to Sand By the Ton, one of his biggest events of the year.

Last year, Das Mann and crew staged the funnest, most creative, entertaining, interesting and sold-out event of the year.

At midnight he took the stage and tossed handfuls of wristbands to the crowd saying, "Fine, here are some bracelets! I am so excited, I don't have to take another phone call asking for a bracelet." Looks like he's wised up this year and quit answering.

Das Mann has also wised up by tripling the capacity of the party from 5,000 to 15,000. He's also trucking in 300 tons of sand (100 tons more than last year) and added two 100-foot water slides, as well as three stages of live music (up one from last year).

A quick trip to American Steel in Oakland Tuesday saw teams of people working away on what should be the party of the year, and this time, most of it will be outside instead of inside.

Das Mann looked very calm, all things considered, sitting in his office with a new personal assistant keeping everyone at bay.

"I've got such an amazing team of people this year," Das Mann said, citing his demeanor and the 23 people on staff to make things happen.

Not sure if the coldest summer in 40 years will hamper people's desires to strip down and get into one of the eight swimming pools, but how can you pass up the chance at sliding down one of those water slides? Did I mention the Giant Foam Wars Bathtub?

Some familiar faces from last year are already working away this year, like Sand Guys Kirk Rademaker and Rusty Croft, whom are both in the middle of creating incredible sand sculptures (in-between a corporate sand sculpture gig for Facebook at Fort Mason).

Das Mann and Karen Cusolito's giant recycled metal figures are being set up in the outdoor playground/fire sculpture area next to art by Michael Christian, Flaming Lotus Girls, Orion Fredericks, Roseanna Scimeca, and Omega Recoil.

The thing I liked so much about last year's party was that there was plenty of live music, not just the typical electronic dance stuff (don't worry dancers, there will be three stages for you this year, with Opulent Temple, Space Cowboys and Symbiosis unce-uncing it through the day).

In terms of live music, I'm most excited to finally see Tornado Rider, who are playing on the same stage as Mark Growden Sextet, Kid Beyond (now with a full band?!), Kings of Klown-Fi ~ Gooferman, and others.

Another highlight last year was the show by Vau De Vire Society, which happened late in the night when most people had left. This year they will be performing with The Mutaytor.
The Boiler Bar was scheduled to be at the event, with a host of performers, but now it seems that may not be the case (bummer).
I did see, with my own eyes, the Dustfish Bordello Stage being readied, where "these acts sizzle with sensual, glamorous, humorous, supersexy eyecandy!"

Things get started at 12 noon on Saturday, and I'd guess it will be going until at least 2 a.m. There is a website with all the info, but no set times, which would be great to know so you can avoid missing your favorite act while fussing at home over your 1920s swimwear.

Tickets on sale now, see you there!