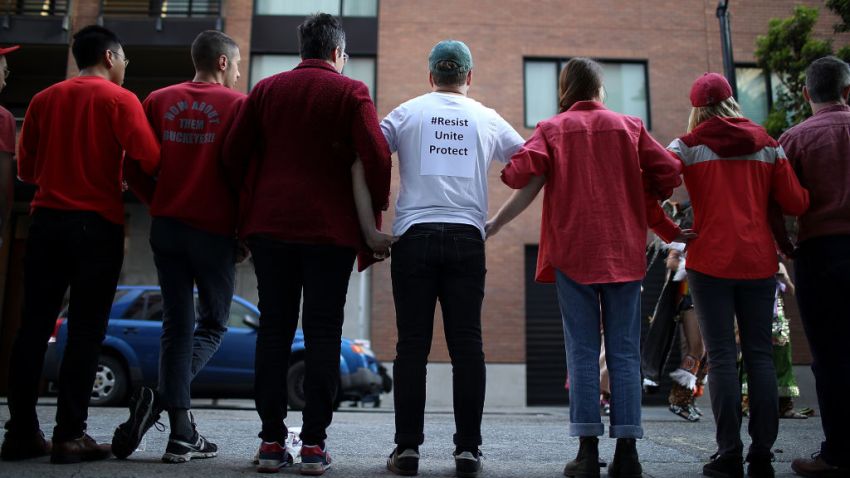 Santa Clara County immigrant rights advocates and community leaders have organized a rally Friday after receiving over 150 calls to the county's U.S. Immigration and Customs Enforcement activity hotline in just 72 hours, according to the entities that support the network.
The county's Rapid Response Network will denounce the federal government's attempt at intimidation through ICE and remind community members to know their rights, network spokespeople said.
The event is set to take place at 5 p.m. at the intersection of King and Story Roads, where the "community seeks to build strength and partnership as ICE calls to divide neighborhoods."
Response network affiliates said that the hotline has had an increase of calls reporting ICE activity, specifically in San Jose. Reported operations have resulted in at least eight confirmed detentions.
ICE released a statement reporting they had arrested 232 individuals in Northern California, 115 being people with prior felony convictions for "serious or violent offenses" during a four-day operation that ended on Wednesday.
They also addressed recent legislation that has allowed cities and counties to declare themselves as sanctuaries, saying that such policies have "nearly eliminated all cooperation and communication with our law enforcement partners in the state."
"ICE has no choice but to continue to conduct at-large arrests in local neighborhoods and at work sites, which will inevitably result in additional collateral arrests, instead of focusing on arrests at jails and prisons where transfers are safer for ICE officers and the community," ICE spokespeople said in the memo.
It's been suggested that Oakland Mayor Libby Schaaf violated federal law this week when she notified the public in advance of the four-day sweep that targeted roughly 1,100 people, but she said she was just doing her job and did not regret her action.
Advocates are concerned that some of the people arrested during that operation may have been denied due process, they said in a statement.
"It is imperative that due process is fully upheld to guard against abuses of federal power," they said in the statement. "We must always question the claims ICE makes about its operations, which all too often have been proven to be embarrassingly false."
Rapid Response Network hotlines are operating all over Northern California and each one is staffed with a team of legal observers and immigration attorneys who investigate the reports of raids and arrests, the immigrant rights advocates said. They encourage witnesses to call the hotline for the county at (408) 290-1144.
Copyright BAYCN - Bay City News