The Santa Clara County DA's Office is looking into claims that former San Jose High principal Cary Catching stole money intended for students. The move was prompted by an NBC Bay Area investigation that uncovered allegations against Catching by parents and teachers. Investigative Reporter Vicky Nguyen reports in a story that aired on May 7, 2015.
The Santa Clara County District Attorney's Office is looking into allegations that a former San Jose High School principal stole money intended for her school and students. The NBC Bay Area Investigative Unit first uncovered some of these claims in January.
Parents say a criminal investigator from the district attorney's office interviewed them about concerns they raised in the Investigative Unit report. The district attorney's office declined an interview request to discuss the allegations, but confirmed it is now investigating claims that former principal Cary Catching misused money.
The Investigative Unit obtained bank statements and emails confirming Catching opened a petty cash account in 2010 in the name of the school's Parent Teacher Student Association (PTSA), a violation of San Jose Unified School District rules.
The school district was unaware of the account for more than a year. But after staff raised questions, the district questioned Catching in December 2013. Catching resigned weeks later, in January 2014. A month after that, she was hired as the Director of Safe and Supportive Schools for the San Mateo Office of Education, a job that pays a salary of up to $133,000.
Immediately after the NBC Bay Area investigation aired, Catching was placed on paid administrative leave at San Mateo County. In March, the county posted a position for Catching's job.
The education office confirmed she will not be returning "in any capacity" once her contract expires at the end of June.
The San Jose Unified School District conducted an audit of the petty cash account Catching opened. Records show Catching used the fund for pricey meals, lottery tickets, clothing and massages for staff. On top of that, the audit revealed more than $7,300 in expenses "without any receipts or explanations" including checks she made out to cash and to herself.
It wasn't until Catching resigned from San Jose High School that parents, teachers and staff started sharing stories about Catching. Some said they lost money from their cashboxes after football games and school fundraisers.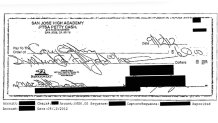 A former math teacher, Clinton Loo, said $450 went missing from funds raised by students for a school trip. Loo wrote in a 2013 email to Catching that he and another teacher "both clearly remember receiving those specific bills that are missing and bundling them with the rest of the deposit."
"We didn't know what happened," Loo said in an interview with the Investigative Unit in January. "We had double counted the money ourselves, and we'd never made a mistake like that before."
San Jose High School alumna Gloria Chacon says she is frustrated by what has transpired at her alma mater.
"San Jose High is very near and dear to my heart," said Chacon, who served as her senior class vice president in 1968 and still organizes high school reunions. "I've been very involved with it over the years, and this is a school with not a whole lot of money. So it just hit very close to home."
After watching the NBC Bay Area investigation, Chacon requested public records about the petty cash account that Catching controlled. She says the San Jose Unified School District never provided answers about the missing money or the circumstances surrounding Catching's departure from San Jose High.
"Somebody's falling down on the job," Chacon said. "I think at least the superintendent needs to answer some questions."
Superintendent Vincent Matthews declined multiple interview requests to discuss Catching. Instead he referred questions to district spokesman Jorge Quintana in January, who said the district "took care of our business." The district has declined subsequent interview requests, and Catching did not return recent requests for comment.
It is still unclear what happened to thousands of dollars in rental fees for which the district was never paid during Catching's tenure.
NBC Bay Area discovered the district is owed at least $10,000 for multiple basketball tournaments held at the school in 2012. The games were hosted by Kevin Blunt, Catching's friend and former colleague from Gunderson High, another school in the district. Blunt says he paid the facility fees but declined to share any proof of payment.
But for Chacon, questions don't stop at Catching. She also questions the district's overall management of school funds.
Records show the district hadn't collected $42,821 in facility rental fees at San Jose High since 2012. After the NBC Bay Area Investigative Unit questioned officials about the missing funds in January, the district recovered some of the money. San Jose Unified is still owed $28,478 in unpaid rental fees.
Chacon says she is hopeful the investigation by the Santa Clara County District Attorney's office will shed light on "too many unanswered questions by the district."
If you have a tip for the Investigative Unit email theunit@nbcbayarea.com or call 888-996-TIPS. Or email reporter Vicky Nguyen Vicky@nbcbayarea.com, or producer Liz Wagner directly Elizabeth.wagner@nbcuni.com.You can also find us on Twitter. @vickydnguyen and @lizwags.