The oozing lava in Hawaii has turned the dream of a California family into ashes.
The Parr family of Santa Cruz lost their Hawaiian dream home after it was swallowed up by the lava flowing from the Kilauea volcano on the Big Island.
While the Parrs are grateful to be safe, they're still stunned by the reality that they have lost everything.
"Since the first time I went there, I knew I wanted to end up there," Zusje Parr said. "We put a lot of heart into it; a lot of our heart still there."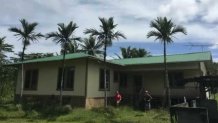 Jon and Zusje Parr sold everything they owned in Santa Cruz and sank their savings into their Hawaiian dream home. They spent two weeks working in their new home and buying fruit trees for their farm.
Then Kilauea erupted.
They evacuated and waited. On Saturday, lava from fissure 20 destroyed their house.
"Ours wasn't where it should be; a big swath of lava in the picture," Jon Parr said.
He said insurance that would cover the damage is purchased but pending. Family members set up a GoFundMe campaign to help them get back on their feet.
"That's almost more emotional than losing the house, having the love of friends and family," Zusje Parr said. "It's been very, very touching for us."
The Parrs, staying in Monterey, said they are worried for the families on the Big Island who are still waiting and wondering if they will have homes to return to.
As a family, they're facing a new reality, but they are holding on to that dream.
"We were living the dream for two weeks," Jon said. "We'll get back there; we had a taste."
A GoFundMe campaign has been set up for the Parr family.