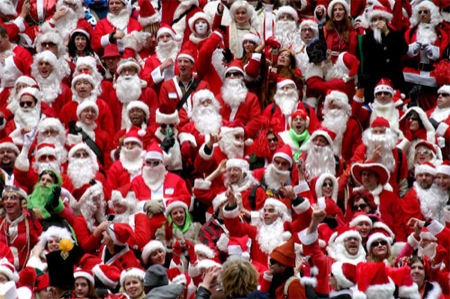 Ever year, hundreds of Santas wander the streets of San Francisco causing mischief, debauchery, tomfoolery and many more synonyms for naughtiness. This year was no different.
The rainy weather did not deter hundreds of mostly men and some women to dress up in Santa suits and invade the City.

The reveling by the mostly drunk gathering lasted last well in the night with stops in nearly every nook, cranny and bar stool.

Many Santa's carried bags of naughty goodies which were handed out to Ho Ho Hos they met along the way.
Santarchy or Santacon events are held in just about every big city in the country and many more around the world.

It is an adult-only event from start to finish which got its start back in 1994 when a few friends decided to visit downtown San Francisco for a night they titled "Kringle Kaos." That night has evolved into a worldwide phenomenon.
Organizers are clear that Santarchy is "not a movement." They say it is also not a protest against Christmas or commercialization. "Really, it's just a bunch of Santa's getting together to have a good time."