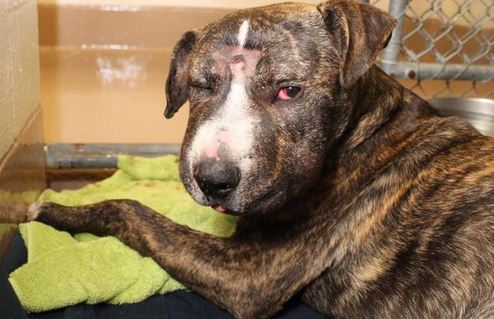 Maxmilian, the savagely beaten pitbull terrier mix who was found with missing footpads and cigarette burns in San Francisco last week, had to be euthanized Sunday morning after his kidneys failed, Animal Care And Control officers said.
On Monday, Animal Care And Control San Francisco announced a new $10,000 reward for information leading to the arrest and conviction of those who abused Max.
"He endured so much abuse that his body was not able to recover despite the vet staff's efforts," Animal Care And Control San Francisco said on its Facebook page. "There was nothing more to be done," volunteer Deb Campbell told NBC Bay Area.
A $10,000 reward was offered by Maddie's Fund for information in the case after the pup was found at 6 a.m. last Thursday under the U.S. Highway 101 overpass near South Van Ness Avenue with severe injuries, including blunt force trauma to his head and body and broken and missing teeth. His paws were severely injured and were missing pads and nails and there were cigarette burn marks on his body.
"Absolutely broke my heart when I saw him this morning, lying on his side, but still managed to wag his tail at me," said a May 15 post on the agency's Facebook page.
Campbell said the reward offer generated lots of leads. "Because of it our animal control officers were able to find Max's owner — Max had been stolen from him early last week," Campbell said. "Our captain arranged for him to be with Max at the end when he was euthanized, so at least he was able to hear his owner's voice one last time."
"It's been hard on our staff. but they are determined to find who did this to Max, and are pursuing many leads," Campbell said.
Anyone with information that could help the investigation is encouraged to call Animal Care and Control at (415)-554-9400. Callers may remain anonymous.
(function(d, s, id) { var js, fjs = d.getElementsByTagName(s)[0]; if (d.getElementById(id)) return; js = d.createElement(s); js.id = id; js.src = "//connect.facebook.net/en_US/sdk.js#xfbml=1&version=v2.3"; fjs.parentNode.insertBefore(js, fjs);}(document, 'script', 'facebook-jssdk'));
(function(d, s, id) { var js, fjs = d.getElementsByTagName(s)[0]; if (d.getElementById(id)) return; js = d.createElement(s); js.id = id; js.src = "//connect.facebook.net/en_US/sdk.js#xfbml=1&version=v2.3"; fjs.parentNode.insertBefore(js, fjs);}(document, 'script', 'facebook-jssdk'));