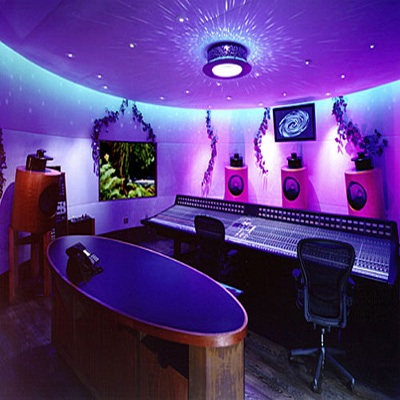 If you dig through your collection of classic rock albums, chances are a bunch of them were recorded in the Record Plant studios in Sausalito.
In its glory days, its roster of artists made up the A-list of '70s rock – Carlos Santana, Rick James, Sly and the Family Stone, The Grateful Dead, and Journey. Metallica famously had the roof raised to enable drummer Lars Ulrich to get a bigger drum sound. It was nicknamed the "Rumors Studio" because Fleetwood Mac recorded its famous "Rumors" album there.
But the current fate of the world-famous studio is anything but glamorous. In 2008 the building owner fell into financial trouble and the bank foreclosed on it. Its wood-slat walls and front doors decorated with carved wooden bears playing instruments sit in silence.
Singer Mari Tamburo remembers the musical spirits living beyond those doors – she recorded there in the early '80s and went on to become the studio manager. She's married to Record Plant owner Arne Frager.
"It's sitting here, not utilized to make music which is what its best purpose is," said Tamburo. "We're out to change that."
For the last few years, Tamburo has lead a campaign to reopen Record Plant. She calls the new nonprofit venture the Plant Studios Artsboretum. Her vision is a music studio that would create music for charities – and provide internships and recording industry training for young people
"We're looking to preserve its history here because it's very inspirational,"said Tamburo. "This is one of the last studios of its kind."
In the fertile music fields of Marin County, Tamburo's campaign has struck a chord with many performers. Fleetwood Mac founder Mick Fleetwood made a YouTube video talking about the legacy of Record Plant and how he supports the effort to save it.
"It is truly an iconic building," Fleetwood said. "An iconic studio."
On Monday night, Maria Maria, a Mill Valley restaurant owned by Carlos Santana, hosted an open-mic benefit for Tamburo's campaign. The restaurant's music director, Keith Sanchez, said the talent included Graham Lesh, son of the Grateful Dead's Phil Lesh, and Zakiya Hooker, daughter of late John Lee Hooker.
"When you visit the halls where some of these legendary licks were laid down and recordings happened, it makes your heart beat faster," said Sanchez, also a musician himself.
But Tamburo faces a tough road ahead. She figures she needs $50,000 to get the bank to begin playing ball. She said she'll need $3 million to buy the building, and an entire community to help it refind its voice.
Check out Mick Fleetwood's plea to save Record Plant: