An armed man with a badge and a wide brim hat who's wanted for robbing several banks across Southern California may have robbed banks in the Bay Area, the FBI said.
FBI officials told KSBW that based on descriptions of the robber — dubbed the "Faux Badge Bandit" because he may be impersonating a police officer — a suspect found dead at the scene of a bank robbery in Goleta may be the same person. The suspect in the Goleta bank robbery, 41-year-old Keith David Goodwin of Fresno ended up shooting himself in a nail salon.
Law enforcement officials describe the "Faux Badge Bandit" as a tall and roughly 230-pound white man, believed to be 40-50 years old, who's believed to have robbed banks in Cupertino, Danville and Elk Grove.
The man's most recent robbery attempt occurred at a bank inside a Safeway in San Ramon, according to officials. The suspect reported pointed a gun at the bank teller and demanded money. When the teller refused, he took off, officials said.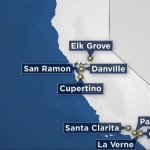 The suspect was accused of robbing four other banks in Los Angeles County since May 31.
"A handgun has been brandished during the robberies and can also be
seen inside the holster," Eimiller told NBC Bay Area's sister station NBC Los Angeles, adding that investigators believe the bandit "may be armed with multiple weapons."
The FBI has offered a $5,000 reward for information that leads to the suspect's arrest. Anyone with information that could help investigators track him down was urged to call 911 contact FBI Tips.