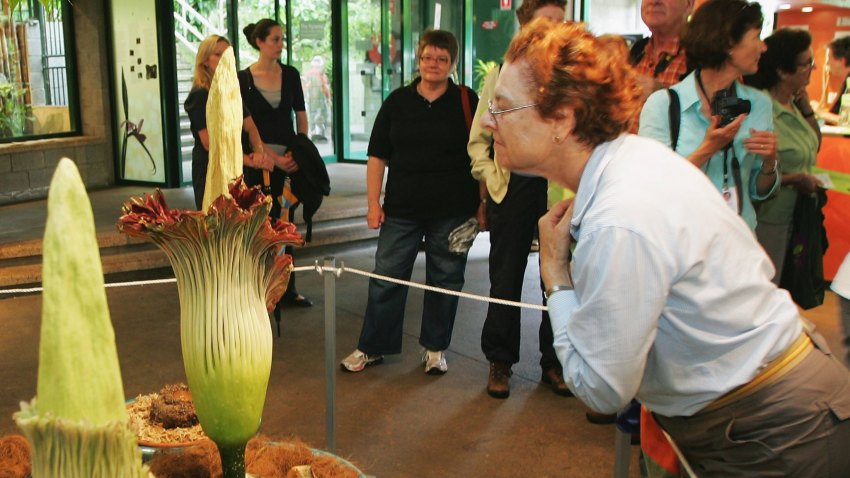 The University of California Botanical Garden at Berkeley is a sight to behold, but it's noses that will be held there at the end of this month because of the stench from a notorious flower that's just about to blossom.

Garden experts say the Titan Arum should bloom around July 1. It might sound like just another plant with a scientific name but this bloom has earned special recognition and a more descriptive name – the corpse plant – because it smells like rotten flesh when it blossoms.

The lesson of the Titan Arum? Don't judge a flower by it's bloom. It looks beautiful, with its bright green and maroon flower but, ooooh, that smell. It might sound – and smell -- like Mother Nature playing a rotten joke but there's a reason for the stench. Pollen-seeking insects are attracted to the flower's bloom, unpleasant odor and all.

Paul Licht, the director of the UC Botanical Garden, even said corpse flowers would be, "nice house plants, except perhaps during the one night they bloom."

This is the It is the sixth Titan Arum flower featured at the garden's Tropical House since 2005. The plant, part of a collection that came as seeds from Sumatra 15 years ago, is the largest flowering structure in the plant world, can grow as much as four inches a day before it blooms. Its underground stem needs to weigh about 30 pounds or more before blooming, a process that takes at least seven years, garden officials say.

The Botanical Garden has a special blog dedicated to the ripe-smelling flower. You can check out the daily growth and even submit a name for the plant. You can also follow the plant's growth on Facebook and on Twitter @ucgarden. The winner will be given a young Titan Arum plant.

Previous blooms in the garden included Trudy in 2005, Titania in 2007, Odora and Odorado in 2008, and Tiny in 2009.
Jessica Greene is still trying to figure out if a young Titan Arum plant for the winning name is a prize or a punishment.

Bay City News contributed to this report