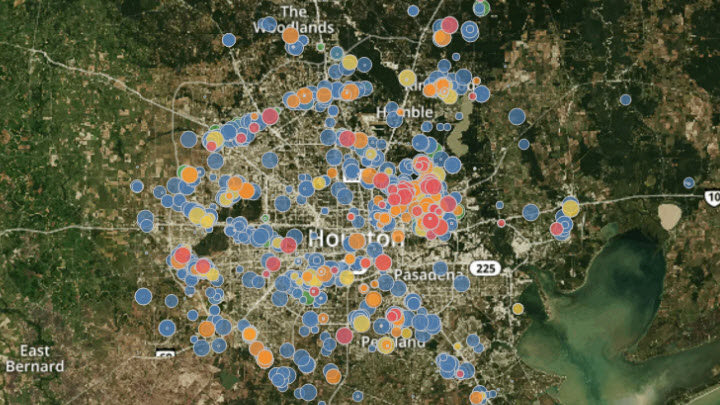 A San Francisco woman, working with collaborators she found on Twitter, has set up a database and mapping application for coordinating Hurricane Harvey rescue and relief efforts in real time.
"I have helped with other open-mapping relief efforts in the past, and went on Twitter Friday morning to see if anyone was active," Jessica Decker said Tuesday.
That's how she connected with Danny McGlashing, of Boston.
Together they set up a website with a live Rescue Map, which had been used to coordinate more than 450 rescues as of Tuesday, and a relief map where users can find resources, aid, shelter and volunteer opportunities.
"Thousands of panicked people were tweeting for help as the water rose, and 911 calls got stalled or resulted in hours-long delays," Decker said. "We just couldn't let those go by."
"It became apparent there was no organized project to plug into, yet, and plenty of people on Twitter looking for one," Decker said. "So we mobilized to build it ourselves, and are still here five days later."
Decker and McGlashing joined forces with a second group called Harvey Rescue, scraping Twitter for rescue requests appearing on Twitter in real time, and the information
On the ground in Texas, #HarveyRELIEF is being used by the Cajun Navy and other rescuers, according to Decker.
The website makes use of Fulcrum, a platform for crowd sourcing data collection, and Tableau, a data visualization platform - both of which have provided thorough technical support for the #HarveyRELIEF effort, Decker said.
They're asking anyone currently stuck on their rooftops in need of a water rescue to use the hashtag #HarveySOS.
Since #HarveyRelief went online Friday morning, more than 500 people have gotten involved, and that number continues to grow. Anyone interested in more information on how to help can find it at harveyrelief.handiworks.co.
Copyright BAYCN - Bay City News