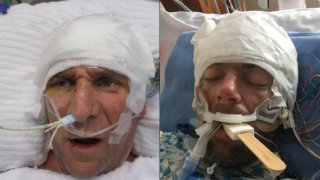 Zuckerberg San Francisco General Hospital is asking for the public's help in identifying two patients who arrived a week apart after being found injured on city streets.
The latest, a man about 5 feet, 7 inches tall and weighing about 150 pounds, was found at Fifth and Howard streets at 10 p.m. Wednesday. He has brown hair, a beard and several distinctive tattoos on his face, neck, hands, chest and arms.
The other man, about 6 feet tall and weighing about 200 pounds, was found in the early morning hours of Nov. 4 on Geary Boulevard, near Ninth Avenue, in the city's Richmond district. He has blue-green eyes, dark brown hair and salt-and-pepper stubble. He also has several distinctive tattoos.
He was likely assaulted and left unconscious, the hospital said.
Anyone who has information about either man's identity should call 628-206-8063, or email Brent Andrew at brent.andrew@sfdph.org.