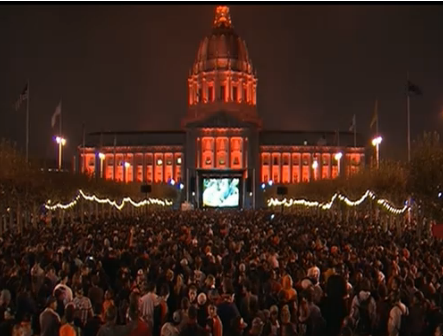 San Francisco city officials broadcast Game Four of the World Series live at Civic Center Plaza Sunday night.
A jumbotron screen was set up for what could potentially be the clinching game of the series.
The estimated crowd Sunday night was 10,000 people. Men, women, boys and girls cheered like they were at AT&T Park. The large and happy group watched a tense and frigid game in Detroit under clear and balmy skies in San Francisco. There was even a full moon out.
Get the latest Giants news at this link.
By 7 a.m. Sunday there were already two fans staking out their spot on the plaza. The area was full by 4 p.m. and packed to the gills for the 5:15 p.m. first pitch.
The city did this same thing in 2010 and thousands of people came to City Hall to see the Giants beat the Texas Rangers and become World Series champions.
"The game that could clinch the series may be in Detroit, but we're creating an opportunity right in front of City Hall for families to gather and cheer the Giants to another World Championship," Mayor Ed Lee said.
The Civic Center event was alcohol free.
Copyright BAYCN - Bay City News