San Francisco is testing out a new program that could change the way health inspectors grade restaurants throughout the city. The pilot program allows poorly-rated restaurants to purchase an "inspection do-over" in hopes of earning a better health score.
Supporters believe the new scoring system will help regulators better educate restaurant owners about food safety; however, critics argue the pilot program allows dirty restaurants to hide their failing grades from consumers.
The Department of Environmental Health in San Francisco, which oversees restaurant inspections, currently scores about 7,400 restaurants and caterers on a scale of 1 to 100 during random, unannounced inspections. If health inspectors discover violations, the restaurant must take immediate action to correct them. Regardless of those fixes, the restaurant is still stuck with that same health score, for up to a year, until their next surprise inspection.
San Francisco's little-known pilot program, however, allows businesses to order up an inspection do-over. Low-scoring restaurants can pay $191 to receive a new inspection within 30 days, which can provide the business with a brand-new score.
"If businesses can whitewash their reputations by paying for new scores then the whole process breaks down," said Vincent Sollitto, senior vice president at Yelp. "Businesses are trying to avoid the ramifications of a bad score on a pop inspection by paying for a new one."
Sollitto believes the new program helps restaurants hide critical information from consumers.
"When [a restaurant] didn't think anyone was paying attention, they weren't following the proper hygiene, and that's what consumers really want to know. Wouldn't you want to know what happens when no one's looking?" Sollitto said.
San Francisco is one of 17 regions across the country where Yelp posts restaurant health scores and ratings directly on its own website for easy consumer access. Yelp provides health inspection information by collecting real-time data from government databases, including San Francisco's restaurant safety score website. Yelp believes San Francisco's new pilot program threatens the accuracy of that data, so Sollitto said Yelp urged San Francisco months ago to cancel the re-scoring option, since it allows some of the city's worst-rated restaurants to pay for a brand-new inspection, which could lead to a new score.
"It is not as simple as they will pay a fee to try to get a higher score. This is about changing bad behavior patterns within a food facility," said Lisa O'Malley, one of three supervisors in charge of San Francisco's restaurant inspection program.
She says websites like Yelp make it easy for consumers to find a restaurant's bad health score, which is why, she said, restaurant owners pushed San Francisco to offer a re-scoring option.
"They have earned that score, and we do not tell them when we are coming," O'Malley said. "We did not call and say 'we will be there at 2 o'clock on Friday.' We don't do that. So it is a surprise inspection."
O'Malley maintains that while restaurants in the program know that an inspector will stop by within 30 days of paying the required re-scoring fee, inspections are still considered "unscheduled." Outside of the pilot program, however, restaurant owners have historically been given a much wider time frame as to when to expect a health inspection: anywhere between every 6 months to a year.
According to O'Malley, only four restaurants have taken part in the city's re-scoring program. All earned higher health scores after paying for their re-inspections; that includes the Chinese food restaurant M.Y. China near Union Square, which jumped 30 points from a 63 to a 93.
[[411713365, C]]
The soul food restaurant Farmerbrown also saw a significant increase, rising from 79 to 90. The restaurant earned its original score after inspectors found "rodent droppings" throughout the restaurant. There was no sign of that during their re-inspection. The NBC Bay Area Investigative Unit reached out to both restaurants for comment, but has yet to hear back.
O'Malley says San Francisco will likely re-score 10 to 20 more restaurants and review the results before fully implementing its pilot program. She disputes Yelp's criticism and is encouraged by the program's results.
"Here in San Francisco, we build bridges with people; we want to protect public health," O'Malley said. "We are doing our job, and we are doing that through enforcement, and we are doing that through education."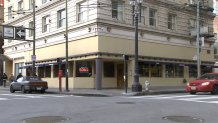 Yelp is now using its own platform to wage a food fight against San Francisco. While the company already posts alerts on the lowest-scoring restaurants, Yelp will now keep those alerts active for six months, even if a restaurant pays to get a new score. Yelp is also revising the text of its alert to criticize San Francisco and its new pilot program.
The revised Yelp alert, in part, will read: "We understand the city recently caved and now allows restaurants to essentially buy new scores."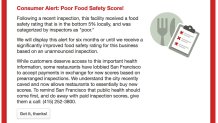 Yelp's new alert system officially goes live Wednesday and will impact roughly 60 of the worst-rated restaurants in San Francisco.
"We think the city should be siding with consumers and not allowing businesses a do-over," Sollitto said. "When I was in school, if I failed a pop quiz I didn't get a second-chance the next day. That was my grade."
______________________________________
Need to contact our Investigative Unit?
• You can remain anonymous
• 1-888-996-TIPS
______________________________________
Watch the entire series in this NBC Bay Area investigation: