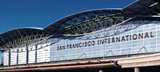 An Alaska Airlines plane was searched in Oakland this morning after a letter containing a bomb threat was discovered across the Bay at San Francisco International Airport, officials said.
The letter was found in a bookstore in Terminal 1 just before 7 a.m., SFO spokesman Mike McCarron said.
The discovery prompted authorities to search Alaska Airlines Flight 342, which took off from Seattle and arrived at Oakland International Airport at 7:55 a.m.
The plane landed without incident and was immediately moved to an isolated area where the 132 passengers and crew were deplaned, taken to a holding area and re-screened, Oakland airport spokeswoman Joanne Holloway said.
The Alameda County Sheriff's Office and the Transportation Security Administration found no signs of a bomb on the plane or in the luggage, Holloway said.
The passengers and crew were cleared and allowed to return to the plane to retrieve carry-on items, she said.
The FBI and the TSA are investigating the threat.
Copyright BAYCN - Bay City News