From the tip of his hat to the soles of his boots, Glyn Evans is a cowboy and has been for every one of his 88 years of life.
"I'm a cowboy from the old school of ranches," Evans said, "grew up on a ranch in Arizona." With that background, certain attitudes were ingrained in Evans, particularly about livestock. "Cattle are just cattle to me," Evans said.
This story, though, is about how this old-school cowboy finally found it in his heart to love a cow.
"That cow means as much to me as my life," Evans said.
The story begins like so many do in Sonoma County these days: on the night of Oct. 8, 2017, when it seemed like the earth, the sky and every single thing in between was on fire.
"The barn, the house, the houses across the street, this house behind me," Evans said while standing in the middle of the flattened, scorched piece of earth that has been his home for the past 40 years.
On the night of the fire Evans and his wife of 45 years, Valerie, rushed around their property trying to save their animals. Evans went to get a tractor to pull a horse trailer and told Valerie he'd be right back. When he returned, she was gone.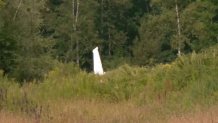 "Where those flowers are planted is where my son and I found her remains the next morning," Evans said.
Valerie had gone back into the house to rescue their dog and neither made it out alive.
"It's like a nightmare I can't wake up from," Evans said.
Of the precious few things that did survive the fire one, it turns out, is much more precious than the rest: Valerie's favorite animal, her pet, a 1,600 pound Texas Longhorn cow named Angel.
Evans thought she was a goner the night of the fire. He last saw her standing in an enclosure surrounded by burning trees and fences. Angel, however, managed to survive and now Evans can barely stand to leave her side in her temporary home in Penngrove.
Asked what the cow means to him, Evans said, "About like life and death. She means that much to me. She means everything to me right now. She brings my wife back to me in a good way.
Perhaps the only thing that has surprised Evans more than how attached he's become to Angel is learning how many others already were.
Standing in her pasture alongside Highway 101 in Santa Rosa for the past 15 years, Angel had become something of a landmark to the thousands of commuters who passed by her each and every day.
When Angel disappeared after the fire, most feared the worst but when a Facebook post let people know she survived hundreds of comments poured in from people saying they missed seeing Angel and that her survival was a sign of hope for all of them.
"I never knew she meant that much to so many people," Evans said.
It's just another reason that Evans has one mission in life right now: fix up his property enough so that Angel can take her proper place once again and at least one thing will be like it used to be.
"She reminds me of Sonoma county because she is stout and brave and reminds me of my wife who was kind and gentle. She just means everything to me right now."