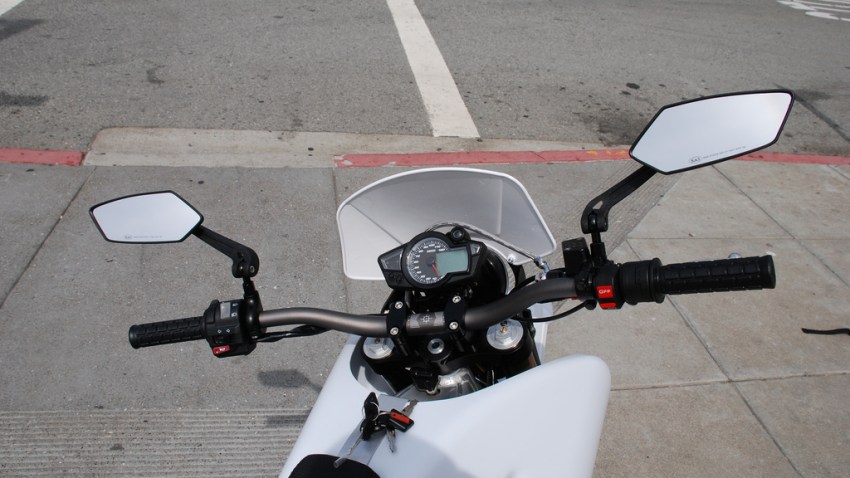 Shawn Higbee has made plenty of noise through two decades of motorcycle racing. Strangely enough, his current ride makes hardly any noise at all.
Dressed in racing leathers, he flipped the switch on his Zero Motorcycle and pulled the throttle. Rather than a gut-wrenching rumble pouring from the engine, it instead made a high pitch whirring sound, like the string of a fishing reel being yanked out.
"It's obviously quiet," said Higbee. "So that's the biggest thing to get used to is no noise out there."
The reason for the silence, is Higbee's racing bike is armed with an electric motor rather than gas. This weekend, he'll make history at Sonoma's Infineon Raceway as he and nine other riders take part in the first zero-carbon motorcycle race in the U.S.
"I think it has a bright future, said Higbee of the sport's future. "The zero emissions, thinking green is a good thing to be on board with."
On first glance, it would be hard to tell Higbee's cobalt blue motorcycle from any other bike on the track. But as you lean down to examine its engine, you're instead confronted by dual electric motors. Beneath the rear fender, a circuit board lets you know this is no ordinary racing bike. The company said the bike can reach speeds of 120 miles per hour.
"There's no gas, no exhaust," said Zero Motorcycle's Chris Heimbuck. "So the sound is completely different than an internal combustion engine."
The prestigious and legendary Isle of Man race track recently hosted an all-electric motorcycle race. But the TTXGP race at Infineon marks the first such race on U.S soil. But riders and builders alike said electric motor racing is the future of the sport.
Electric motorcycle builder Raul Aguilar Inarritu of Electric Motorsport said it wasn't until recently that battery technology could keep up with the demands of racing bikes. "These days the batteries are lighter, the controllers are more powerful," said Inarritu, whose shop is located in West Oakland. "There is a more purpose for the sport -- now it's show time."
At a press event at Infineon, four riders zipped around the track at blood-pumping speeds. But without the normal rumble, it took the track's press handler to alert photographers to their approach. Riders say the quiet ride takes some getting used to.
"You usually regulate your corner speed by the sound of the motor so now it's a whole different feeling," said Kenyon Kluge of K Squared Racing.
Higbee said he now hears the whirring of the bike's chain, wind racing past his helmet and the sound of tires gripping the road.
"Maybe I'll have better focus to ride through corners," he said. "I don't know, it'll be fun to see what happens."