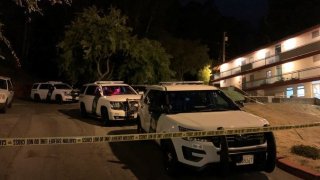 The Marin County Sheriff's Office has released the identity of a Marin City man killed in a shooting Tuesday night.
The sheriff's office received multiple reports around 8 p.m. Tuesday of multiple gunshots fired in the 400 block of Drake Avenue in unincorporated Marin City.
Deputies found 42-year-old Tiyon Tony Ford unresponsive and suffering from multiple gunshot wounds at the scene when they arrived. Deputies and firefighters responding to the scene performed life-saving measures on Ford before he was transported to a hospital and pronounced dead there.
The sheriff's office is seeking cooperation from multiple witnesses who reportedly saw the shooting. People with information about the shooting can contact Detective Chris Gullett at (415) 233-3431 or Bay Area Crime Stoppers at (800) 222-8477.
Copyright BAYCN - Bay City News