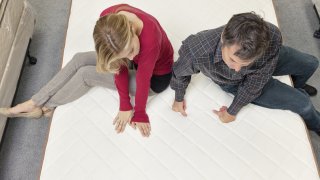 The following content is created in consultation with Mancini's Sleepworld. It does not reflect the work or opinions of NBC BAY AREA's editorial staff. To learn more about Mancini's Sleepworld, visit Sleepworld.com.
A new mattress is a major investment in your quality of sleep. But what's the best way to make this important purchase? For convenience, price and service, here's how choosing a mattress in person compares to shopping for it online.
Convenience
The internet is open 24/7, which means you can get details and pricing on a huge range of brands and models whenever and wherever it suits you. On the basis of access and selection alone, online shopping might seem to have the edge.
Yet physical stores have significant advantages. When you visit a showroom in person, for example, you can personally compare the build, support and aesthetics of a wide variety of mattresses. When you find one you love, you can buy it on the spot. The store can help you set it up in your home and may even haul away your old mattress for free.
Price
Most online merchants don't carry the overhead of a showroom, so they may be able to offer reduced pricing on some products. Traditional retailers, on the other hand, extend savings through regular sales and promotions. They may also be able to meet or beat online prices through price-match policies.
Shipping is generally free when you order online. But you'll probably pay the cost of returning or exchanging a mattress—and you'll have to sqeeze it back into its original packaging.
Service
From chat boxes to toll-free call lines, online shoppers can connect with retailers in a number of ways. But for customers who value a personalized shopping experience, the internet just doesn't measure up. A well informed showroom associate can answer questions on the spot and help you avoid overspending on products you don't need.
In addition, experts say, an in-store "rest test" is crucial. Before spending a dime on a mattress, you should spend at least 30 minutes on it in your usual sleep position.
At the end of the day, you'll probably spend a third of your life on your new purchase. It's worthwhile to make it with a trusted walk-in retailer like Mancini's Sleepworld. Call (800) 641-5337 or visit Sleepworld.com to find the location nearest you.