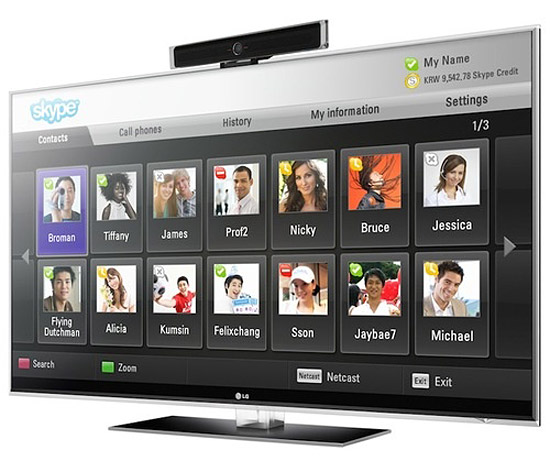 On video calls with friends or relatives using free internet calling service Skype, we're dying to see every mole and zit in HD resolution.
That's why we're so happy about Skype's announcement of Skype for Windows 4.2, a Beta service that supports 720p webcam calls, rocking the 1280x720-pixel resolution at 30 frames per second.
It's all free, but there's a couple of catches: Skype advises you to bring along a "1 Mbps symmetrical connection," counting us out because of Time Warner's stingy 30Mbps down/780kbps up "turbo" service.
And, you'll need one of the upcoming 720p webcam optimized for Skype — we love this one from Microsoft, but it's not clear if it will work with Skype 4.2 in 720p or not. See the press release linked below for details
Skype's touting new TVs from LG and Panasonic that will be also happy to oblige. Panasonic's upcoming Vieracast HDTVs and LG's 26 new LCD and plasma HDTVs with NetCast Entertainment Access (one of which is pictured above) roll out in mid-2010 with Skype capability built in.
Via Businesswire
Copyright DVICE - DVICE