The slow and steady storm system that began Thursday night and caused a string of power outages - including on many of the Bay Area bridges - car accidents and flash flood warnings in the North Bay moved its way out of the Bay Area late Friday afternoon.
The skies began to clear just about lunch time.
Earlier in the day, the rains caused a plethora of weather-related problem and may have caused at least one death. A Pacific Gas & Electric worker in West Sacramento was killed after his truck crashed into a traffic signal pole during the stormy weather.
The North Bay was hit the hardest. Parts of Sonoma County received more than 7 inches of rain and areas in Napa County received nearly 6 inches.
More rain is expected this weekend, so Tony Negro, a contractor in Sonoma County, said he is worried about water flooding his workshop. "I'm on my way to get some sand bags,'' he told AP.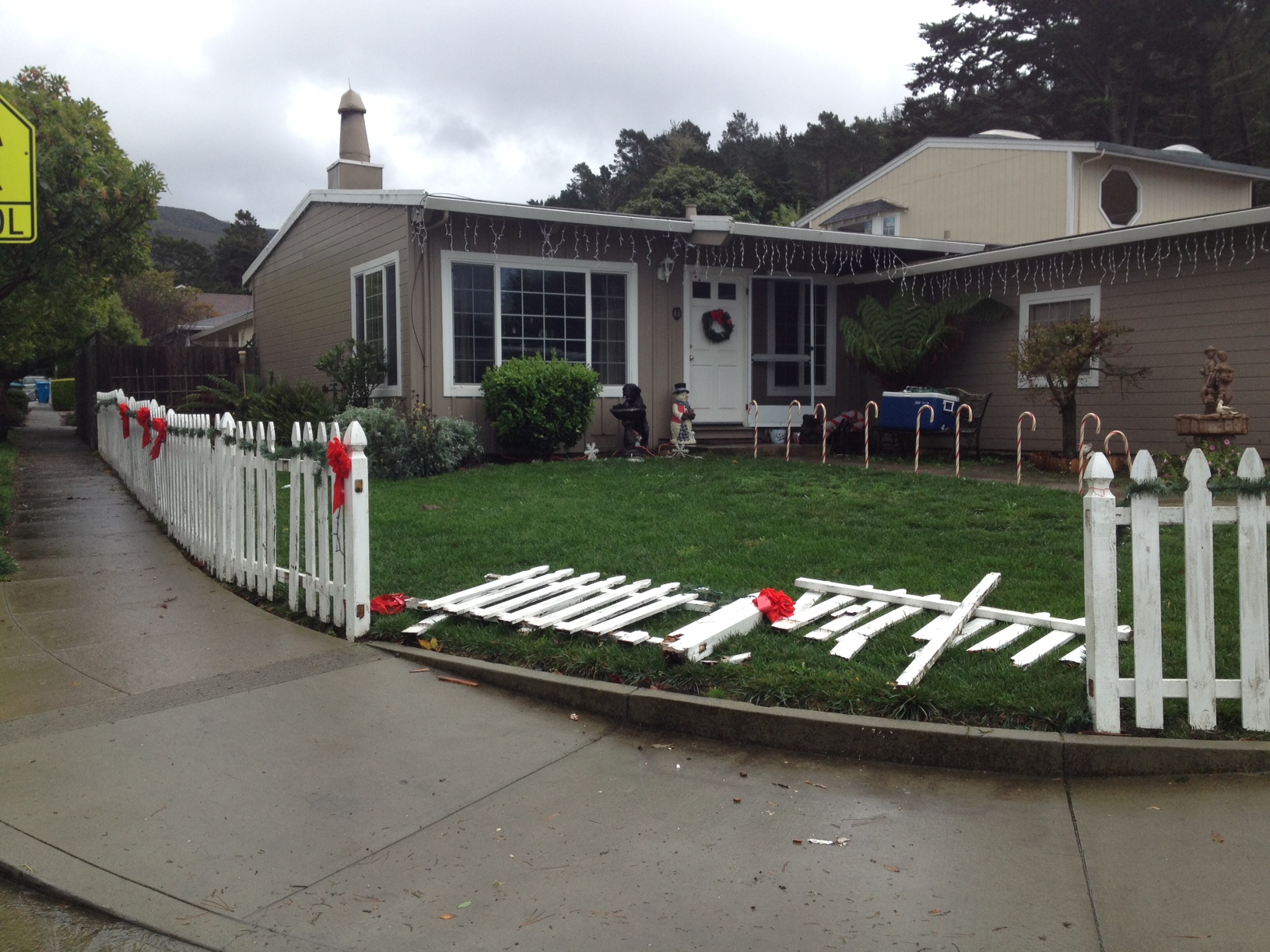 Passengers were stranded. San Francisco International Airport announced 60 flights cancellations by 9 a.m. Friday because of the winter storm, which brought strong winds from the south, an uncommon occurrence. Most of those cancellations were for short-haul flights along the West Coast.
Traffic accidents abounded. The biggest traffic accidents of the morning included a 1:40 a.m. Sig-Alert on Interstate Highway 580 in Pleasanton when a rig carrying diesel flipped over and spilled diesel, and a portion of state Route 84 was temporarily shut down in Fremont because of a mudslide. But the California Highway Patrol reported morning commute flooding all over the Bay Area, including highways in Newark and at state Route 87 and Coleman Avenue in San Jose.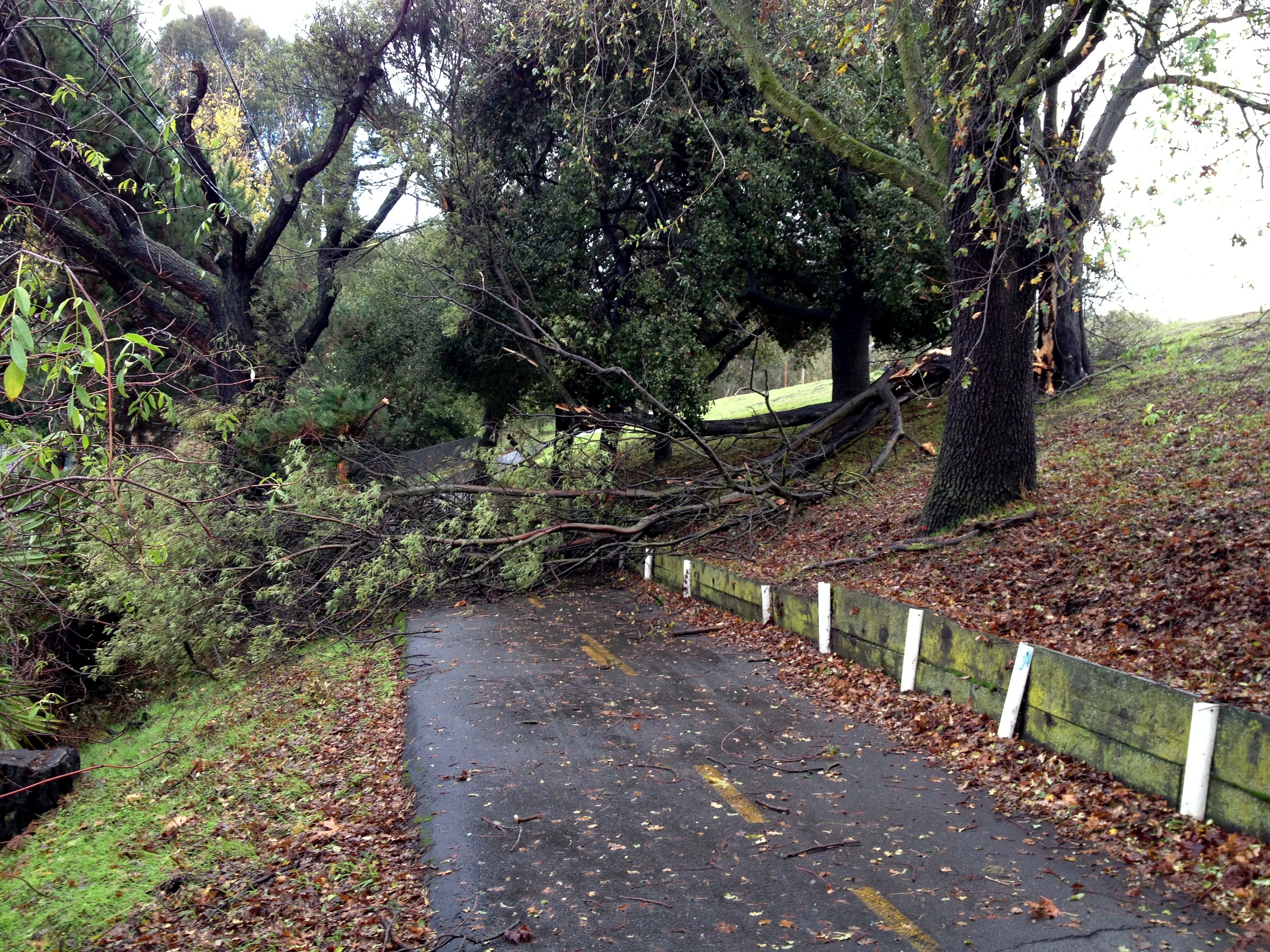 Homeowners fumbled in the dark. PG&E reported up to 16,000 power outages at one point. Before sunrise, power outages had extended to many of the Bay Area bridge's too, including the Bay Bridge, which was restored by 7: 30 a.m. Caltrans explained that the PG&E station in Oakland that supplies power to the bridge went down about 5:30 a.m., forcing crews to scramble and grab electricity from the San Francisco side of the bridge.
Flash flood warnings were issued for the coast and North Bay counties as a precaution to warn people to the potential of fast rising water. Also, the California Highway Patrol issued a high-wind advisory for the Golden Gate Bridge.
By 7:30 a.m., the National Weather Service reported that a point in Sonoma County had received 7.2 inches of rain, and parts of Napa had received between four to five inches. Orinda had received 1.7 inches and the Oakland Airport had received .96 inches.
Wind advisories were also issued early Friday, as forecasters worried gusty winds would knock down trees and power lines. A high-surf advisory was also in effect: Swells could reach up to 16 feet, and beaches may experience rip currents and erosion from the strong waves and surf.

The Coast Guard is anticipating a busy weekend as high winds and heavy seas are expected. A small craft advisory and a gale warning are in effect for parts of the central and northern coast as the potential storm could produce strong southerly winds, endangering mariners and setting vessels adrift.
More rain is in the forecast. Showers are expected on Saturday and another significant system should move in again by Sunday morning.
Sunday's system has the potential for even greater flood concerns and damage reports. That's in part because of the power of the storm that is now heading toward the Bay Area. It will pack the same punch as Friday's storm, but the rain will fall on already saturated ground.