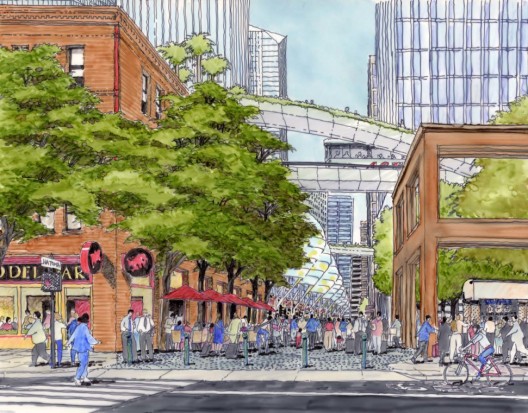 San Francisco
has released the draft plan to build up the SoMa area, dramatically reshaping the City's skyline and shifting downtown's beating heart onto Mission Street.
The project centers around the Transbay Transit Center with rooftop park and everywhere around it, a bustling pedestrian urban center filled with bikes and people and young newsboys selling afternoon editions of the paper.
The goal of the 25-year transformation is to increase the City's ability to accommodate its share of job growth. To do this, San Francisco has to eliminate caps on density and unleash building heights in particular areas, with an eye toward sculpting the skyline's "graceful mound." Kind of like getting a hedge to grow into a giraffe wireframe.
But it's not all high-rises and skyline mounds. On the ground, city planners turned much of their attention in the 147-page plan to shaping a lively pedestrian experience. To wit, the goal is to "create gracious public spaces and accommodate higher pedestrian volumes by widening sidewalks and adding substantial amenities and infrastructure, such as seating, landscaping, kiosks, and bicycle parking.
There will be new plazas created, including one at the northeast corner of Howard and 2nd, and Mission Square, a grand entry plaza to the Transbay Transit Center. That's not to mention the biggest, craziest open space in the plan: the 5.5‐acre park on the roof of the new transit center, which will be accessible by funicular and by other vertical connections.
The plan calls for more of the City's "Living Streets treatments," creating the same sort of "linear plazas" along Beale, Main, and Spear that Rincon Hill calls for: namely less car lanes and wider sidewalks with more amenities.
Alleys should get some attention on certain blocks, too, particularly on Natoma, Tehama, and Clementina, in order to enhance the pedestrian and bike network while continuing to provide "back-of-house" functions for buildings.
Next on the program: the draft environmental impact report, scheduled for mid-2010, and by fall of next year, a final version of the report should appear and adoption hearings are scheduled to begin.
Copyright CURBS