Wes Morse has been at Cupertino High School for 2/3 of his life. The 48-year-old Morse has been a student, coach, or teacher at the school for the past 35 years.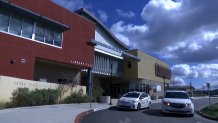 "I've been basically employed at this school more or less since 1990," Morse said.
Morse has lived so much history at the Cupertino High School, he actually wrote the history of the school.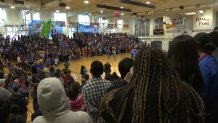 Now, though, Morse and the leadership class he teaches are making school history: the first high school in the Bay Area to partner with Make-A-Wish Greater Bay Area to grant a young person's wish. Morse said he got the idea after visiting a high school in Colorado and seeing them grant a wish.
"I am in awe of what this school did," Morse said. "Part of me said, 'Our school can do this. Our school can do this.'"
This past Friday, they did.
At a rally featuring cheerleaders, gymnasts, teachers sumo wrestling, and Morse getting "slimed," the school celebrated a successful week of fundraising: close to $11,000 raised.
But for whom?
Well, that's what makes the story even more impressive. The money is destined to help a boy none of the Cupertino High School students had ever met: Tony Rey.
Rey is a non-verbal 13-year-old with multiple disabilities that require him to be in a wheelchair.
He doesn't go to Cupertino High School or any other school in the district. He lives in San Jose with his mother and sister.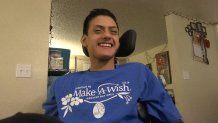 When Make-A-Wish matched the school with Rey, however, none of that mattered. The students at the school heard that Rey loved the beach and the movie, Moana, so their money is sending his family to Hawaii.
"It means so much to us," Diana Rey, Tony's mother, said. "We feel the love."
"It's really satisfying to help someone in the community," Morse said. "Seeing the community come together and do this for Tony and his family is just immensely satisfying."