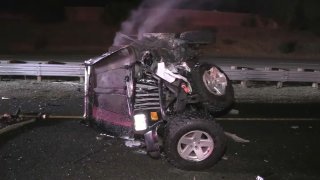 Lanes of northbound Highway 17 in Los Gatos reopened Thursday morning after six people were injured in a wrong-way collision involving a Jeep, a motorcycle and a white sedan, the California Highway Patrol said.
The CHP said the collision was first reported at 12:57 a.m. just south of Lark Avenue. The 33-year-old driver of the Jeep was traveling in the wrong direction and has been arrested on suspicion of driving under the influence.
Six people were taken to a hospital, including the Jeep driver and the motorcycle rider, both of whom had major injuries, the CHP said. The other four people suffered minor injuries.