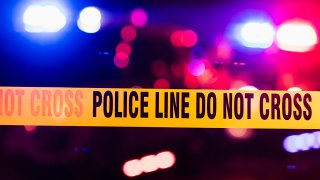 A stabbing in East San Jose late Sunday turned into a homicide investigation as the male victim died Monday morning, according to the police department.
Police were called at 7:47 p.m. Sunday to a reported stabbing in the 400 block of North Capitol Avenue, near the Interstate 680-McKee Road interchange in the city's Alum Rock neighborhood. There was one victim, police said.
San Jose police did not have any information on the person responsible.
It was the city's 42nd homicide of the year, police said.
Police also responded to a family disturbance involving a suspect barricaded in a residence, but there was no connection between the two incidents, police said.
The second incident was outside a residence in the 200 block of Jackson Street, north of San Jose's downtown. Jackson Street between North Fourth and North Sixth Streets, and North Fourth Street between Taylor and Empire Streets were closed as officers try to talk with the man barricaded in the house.
The man was taken into custody just before midnight, police said.
No further information about either the stabbing or the barricaded man was immediately available.