A BART rider was fatally stabbed on a train Tuesday after a fight broke out between the victim and a man armed with a knife.
A police investigation shut down the South Hayward BART station for hours, sparking major system-wide delays, officials said.
Later Tuesday, BART police confirmed that the suspect was trying to steal shoes when an argument started and escalated. Police were looking into the possibility that the victim stepped in when the suspect tried to steal the shoes from another rider.
BART on Wednesday identified the suspect as 39-year-old Jermaine Jeremiah Brim. The agency said he provided an address out of Sacramento when he was booked into Santa Rita Jail in Dublin.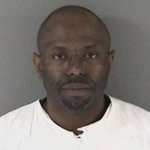 Police said the incident was first reported as a fight between two men around 1:30 p.m. on a train headed to Fremont's Warm Springs station from the San Leandro Bayfair station.
"The fight continued through our Hayward station at which point a knife was introduced into the fight between the two males," BART Interim Police Chief Ed Alvarez said.
The train was stopped at the South Hayward station, where police determined a person was fatally stabbed. Officers then searched the area, and detained a person matching a suspect description about a block away on Tennyson Road.
Witnesses told NBC Bay Area the suspect tried to steal a car from Elias Motors Inc., a dealership near the South Hayward station.
"This is something that is very tragic," Alvarez said of the deadly stabbing. "It's rare on BART. It's not something we get a lot of."
Alvarez also said the stabbing was not a random attack.
The victim's name was not released, police said.
BART General Manager Robert Powers late Tuesday released the following statement:
"We are heartbroken that a person has lost his life due to violence on one of our trains this afternoon. We extend our sincerest condolences to the family and friends of the victim.
BART is taking immediate steps to address concerns many of our riders may have as a result of the tragic death.
Effective immediately, we are increasing the presence of BART Police personnel throughout the system. Additional sworn Police Officers, non-sworn Community Service Officers, and Fare Inspectors will be in the system, on station platforms, and riding the trains as a result of posting additional overtime.
I want to thank the BART Police Department and the Hayward Police Department for their swift action in taking the suspect into custody. We appreciate the partnership we have with local police departments and will continue to work together to ensure safety in and around the BART system.
The safety of our customers and employees is, and always will be, our top priority."
Copyright B