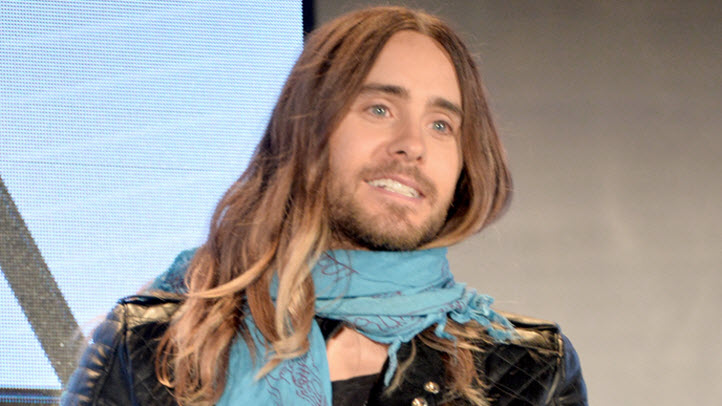 I'm hustled down a hallway, for a secretive, exclusive one-on-one. No one can see, and the crowds are kept away. The handler says "You'll have three minutes."
This, as you might imagine, rarely happens when we reporters talk to Venture Capitalists.
This is no ordinary VC, though. It's Jared Leto, heartthrob thespian and winner of this year's Oscar for Best Supporting Actor ("Dallas Buyer's Club"), certified rock star ("30 Seconds To Mars"), and tech investor.
Within seconds of talking to him, you can tell that Leto is the real deal. Yeah, sure he's handsome, famous, etc, etc. He also knows his technology, having invested in rising startups like Zenefits, Surfair, and Wish, while starting his own companies that blend art and technology.
"Artists deserve a seat at the tech table," Leto says, to explain why an already stratospherically famous person would seek out tech startups. "I'm looking for creative opportunities, and I see a lot of creativity in technology."
Leto joins a growing list of well-known entertainers jumping into tech with their wallets. Ashton Kutcher invested in AirBnB. Jada Pinkett-Smith invested in a safety app called bSafe. Andy Samberg, T.I., Jessica Alba, Justin Timberlake, the list goes on. Clearly, tech is the hot spot for famous people.
They tweet, they show up to board meetings. They're clearly serious about learning and making money. Kutcher recently spoke at TechCrunch "Disrupt," telling the crowd that he looks for creative people and good ideas, not "people talking about market cap and social media platforms."
At a recent Consumer Electronic Show (think: geek paradise) in Las Vegas, I saw no fewer than three rappers talking up headphones. 50 Cent, insisting that sound quality made his 'phones the best; Ludacris, talking about why his brand is aimed exclusively at the high-end listener; and of course, Dr. Dre, who started Beats Electronics, brought celebrities like Lady GaGa into the fold, and just sold his company to Apple for a cool $3 billion.
So, again, why take the time to invest? Well, according to Forbes, Dr. Dre is now worth $620 million. Who wouldn't want to play that role?
Scott can be found interviewing famous people on Twitter: @scottbudman