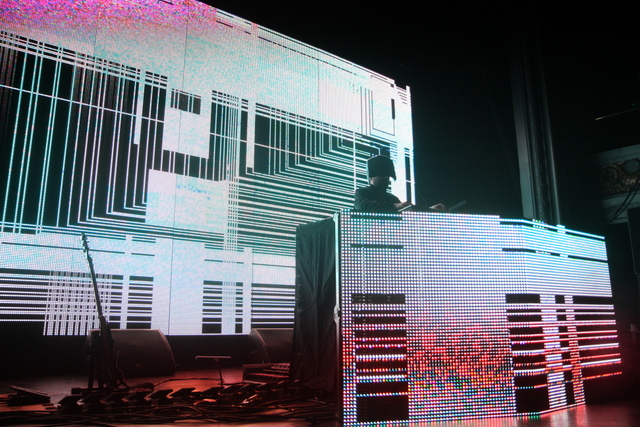 How does one get around the dilemma of staging a DJ show where there is not much more going on than one man standing at a computer on stage?
Well if you're Tom Jenkinson, better know by his pseudonym Squarepusher, what you do is cover your stage, your gear, and even your body and head in thousands of tiny LED lights that blink and swirl in overwhelming visual symphonies of psychedelic overkill.
When he played Thursday night at the Regency Ballroom in San Francisco, the show was a multi-genre smorgasbord of musical styles. There was raved up dance music, beat manipulation, and ever-shifting sonic ideas. Analog synth sounds clashed with heavy bass. And not just any bass but a gut-rumpling thunder you could feel through every atom of your corporeal being. Glitchy interludes competed with melodic synthesizer sections to create a tapestry of impressive musicality; especially considering it was all being generated by just one person.
He was working a couple of computer consoles covered in buttons and knobs that kept his hands constantly fluttering about. I couldn't tell how much of it was prerecorded or being done on the spot, because of all the flashing lights it was hard to see exactly what he was doing.

The light show was truly overwhelming, an eye-burning overkill of relentless psychedelia. Even his head was covered in lights. It was so cool how the light patterns all over the stage would also echo across his face. Swirling spirals, cascading geometries, trippy electronic instrumental music, all the things a casual psychedelic user would love. It was kind of like the bastard child of Brian Eno with a lot more drums and bass. Most of the songs or compositions had an underlying pop aesthetic but this would be relentlessly distorted, delayed, and mutated by Jenkinson's constant digital manipulations.

About halfway through the set the monochrome backdrop suddenly shifted to bright lurid color for a few minutes. Jenkinson launched into a trancey melodic passage that nevertheless had some moments of pure bass excess that would have driven me from the room if I hadn't been wearing earplugs and standing at the back. I can't imagine the damage done to the naked ears up front.

Jenkinson never spoke and went quickly from one song to the next like a mad scientist anxious to stay at his experiments. He would wave at the crowd to rev them up occasionally but there wasn't a single sentence of banter. The place was nearly sold out and the crowd of tuned in digital 20-something something hipsters held their iPhones high filming the whole thing and cheering mightily after every familiar glitched out opus. Each song could be a mash up of many forms of electronic music, tribal, trance, acid, classic rave, but Jenkinson always seemed to blend it all into one organic whole. Squarepusher has put out more than 15 albums since 1994. Thursday night's show showcased selections from his newest "Unfabulum" as well as other classic cuts. One of my favorite songs was "Dark Steering" with its controlled glitch disintegrating into a light show of cubic madness. "Unreal Square" sounded like a kid's song gone horribly wrong. It was all so trippy and stony that I was suddenly shocked to see that the air in the room was clear. I looked over at my friend and said, "Why aren't more people smoking pot now?"

After about an hour Jenkinson strapped on a bass guitar that was so heavily processed it was unrecognizable as a stringed instrument. Once all this noisy tomfoolery resolved itself into a more traditional bass sound it turned out he played his axe well with some crunchy riffs that almost sounded like Black Sabbath. After the big bass wankathon he left the stage. The crowd cheered loudly for an encore but instead the lights went up and that was that. Other than the damaging volume levels it was a great show.