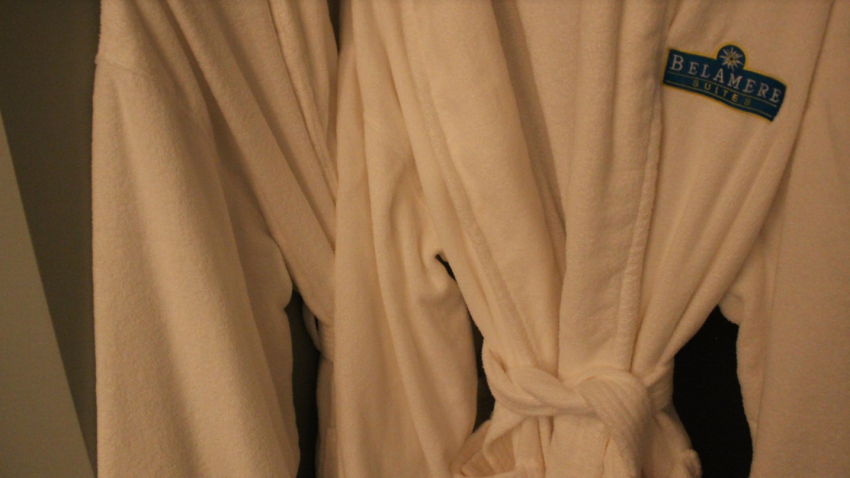 Using President Donald Trump's tweets and news interviews as some of the basis for a federal lawsuit, three California university students have sued the president over his travel ban, saying he is unconstitutionally trying to fulfill a campaign promise to ban Muslims from this country.
The 36-page suit follows on the heels of a plethora of other suits filed this week against the president; from the American Civil Liberties Union, which raised about $24 million last weekend alone during the height of the airport protests over the ban, to a prominent Muslim group, to the city of San Francisco.
The suit, filed Thursday in U.S. District Court in San Francisco, is a class action complaint seeking declaratory and injunctive relief from President Donald Trump's Jan. 27 executive order imposing a 120-day moratorium on refugees and a temporary ban on travelers who hail from Iraq, Iran, Libya, Somalia, Sudan, Syria and Yemen.
An email to the U.S. Department of Justice seeking comment was not immediately returned Friday to the Associated Press.
According to the suit, Hadil Al-Mowafak - a Stanford University freshman - is now unable to visit her husband in Yemen. She hopes to visit him this sumer, but she's afraid to because she fears not being able to re-enter the country, the suit states, and therefore not be able to finish her studies.
"I can't imagine not seeing [him] for a year, let alone four years," the 21-year-old said.
Al-Mowafak said also that she is proud to fight for the freedom to travel, adding: "I am holding on to hope."
Wasim Ghaleb, 23, also a citizen of Yemen - has been unable to return to resume studies in business administration at Grossmont College in San Diego. He was told on Jan. 28 at the Los Angeles International Airport, he was told that he could not fly back to California to start school on Jan. 30, the claim states. He showed the agents his paperwork, Form 1-20 and his F-1 entry visa, but he was told he "had no choice but to return to Jeddah" in Saudi Arabia.
And an unnamed Iranian national who is a Ph.D. candidate and who has published articles in "prestigious scientific journals" at UC Berkeley fears losing a job opportunity. He is stuck in Saudi Arabia where he was visiting family and now can't return because of the executive order, according to the suit. He currently lives in Alameda and is trying to finish his final year of study in engineering. He is fearful he won't get the necessary authorization to continue living in the United States and will have to turn down a job he got at a "top Fortune 50" company in Silicon Valley, according to the suit.
All three hold valid F-1 visas, the suit says.
Because of the ban on citizens from seven predominantly Muslim countries these students now are enduring unconstitutional hardships, the suit claims, and there is "chaos and confusion" in the country.
Specifically, the suit alleges that the president's executive order violates the First Amendment because it is a "thinly veiled attempt to discriminate against Muslims by barring them from entry into the United States." And thhe Immigration and Nationality Act ensures against this, the suit states.
Plaintiff lawyers are arguing that Trump's executive order is fulfilling a campaign promise to ban Muslims from entering the country.
Many citations in the lawsuit provide a direct link to Trump's tweets, including one he made on Dec. 7, 2015 that read "DONALD J. TRUMP STATEMENT ON PREVENTING MUSLIM IMMIGRATION," with a link to this proclamation.
The suit also references a July 2016 interview with NBC News "Meet the Press" host Chuck Todd and Trump, where the then-candidate said: "We must immediately suspend immigration from any nation that has been compromised by terrorism until such time has proven vetting mechanisms have been put in place."
When Todd asked him if a plan he supported back them was a "roll back" from the "Muslim ban," Trump answered: "I don't think so. I actually don't think it's a rollback. In fact, you could say it is an expansion."
Plaintiffs lawyers include Julia Harumi Mass of the American Civil Liberties Union of Northern California and Adam Lauridsen and others, who are also representing Jewish Family and Community Services of the East Bay.
The reason the Jewish agency is a plaintiff, the suit says, is because the nonprofit "supports those refugees and immigrants who are already present in the area, and stands ready to welcome and provide services to additional refugees and immigrants who are able to gain entry into the United States."
NBC Bay Area's Jean Elle contributed to this report.