Despite the wee hours of the morning and the lack of sleep, die-hard "Star Wars" fans at select movie theaters skipped work, school and most of life's responsibilities to binge-watch all six previous films before Thursday night's debut of the "Force Awakens."
Three of those marathon movie theaters were centered in the Bay Area - Redwood Downtown 20 in Redwood City, Century 20 Oakridge in San Jose and AMC Metreon 16 in San Francisco, where by 6 a.m. on Thursday, Episodes I and II had been played.
Movie goers came out for a breath of fresh air, and some popcorn, during a brief intermission to describe the mood. The marathon kicked off at 1 a.m. on Thursday and will last until about 6 p.m., giving fans just a small respite before the 7 p.m. showing of the seventh cult film - the last one made since 2005.
Star Wars Mania
"It's pretty electric, there's a good vibe in there," said Paul Benson of Santa Rosa. "Everyone is a die-hard fan."
As for Benson's stamina after about four hours of movie-watching: "So far so good," he said. "I've only slept through half a movie. It's going to be a long couple days."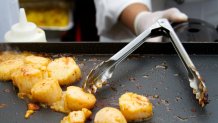 "There's a lot of cheering," Bianca Torres of San Francisco added. "I only slept four hours yesterday. So I had to make some tough choices."
She said she will go home and miss two of the "Star Wars" movies, so that she can rest and come back just before the much-anticipated "Force Awakens" airs.
For movie theaters not granted the Star Wars-marathon status, lines were already forming before the sun came up. At the IMAX Theater at the Tech Museum of Innovation in San Jose, a handful of brave souls stood out in the cold, waiting for the curtains to rise.
"It's part of the experience," Maxson Taylor said. "It's big cultural event."