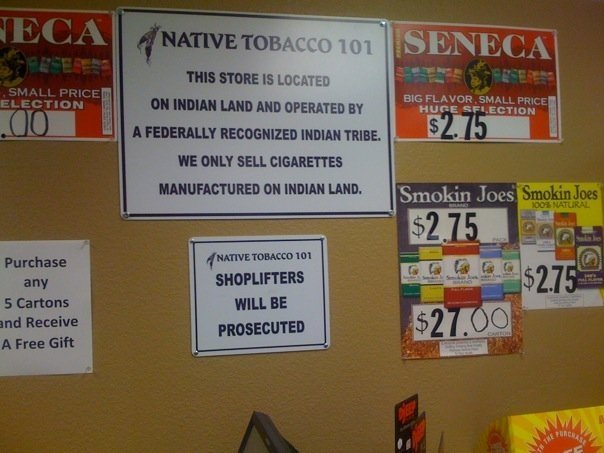 State officials have accused a North Bay store of circumventing tobacco laws by fraudulently claiming Indian tribe status.
Objections to Native Tobacco 101 in Cloverdale, Calif. are numerous, according to regulators. The store's cigarettes are unapproved for sale in California, are not properly taxed, and fail to meet fire safety standards.
Other local tobacconists are dismayed by the store's claim of Indian exemption to tobacco regulation. Across the street, the owner of Quick Pick Liquors complained to the Press Democrat that it was unfair for him to have to pay taxes that his competitors do not.
The store's fired back, claiming that because it's on Indian land and sells Indian-made cigarettes, it's exempt from normal state regulations. But it's unclear if that's true, although their land formerly belonged to a Pomo elder, the Cloverdale Rancheria Band of Pomo Indians have distanced themselves from the shop.
Meanwhile, the store's Facebook fan page currently boasts 63 supporters, all of whom are no doubt pleased to be relieved of a tax burden.
The passage earlier this month of new legislation may mean harder times for Native American tobacconists all over the country. The PACT Act, designed to crack down on Internet sales to minors, was assailed as a "sucker punch" to federal treaties by the Seneca Nation.
When reached for comment, a cigarette industry spokesperson coughed uncontrollably and then died.
Copyright FREEL - NBC Local Media