After 24 years at the helm of San Francisco's popular Stern Grove Music Festival, Douglas Goldman is stepping down as chairman — and in a nod to an 82-year old family tradition — handing down the reins to his twin sons Jason and Matthew Goldman.
The free festival, which every summer brings top musical performing acts and thousands of visitors to the wooded grove at 19th Avenue and Sloat Boulevard, was started by Goldman's great-grandmother Rosalie M. Stern in 1938. She gifted the grove to the city in 1931 in honor of her husband Sigmund Stern, a nephew of Levis Strauss. Since the festival's opening note, its leadership has passed through family members before Goldman took over from his mother Rhoda Haas Goldman 24 years ago.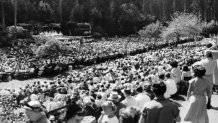 "This is really a beautiful, peaceful, wonderful spot in the city," Goldman said standing in the empty grove last week. "People are amazed to think you're smack dab in the middle of an urban center."
The first concerts performed in the grove featured the San Francisco Symphony and Ballet. Goldman put his stamp on the festival by bringing in more diverse, modern acts performing everything from African and Algerian pop music to Hawaiian dancing. Years ago, when the festival was soul-searching for a way to increase diversity, Goldman batted aside a suggestion by an aunt that the festival bus people in.
"What you do is play music people listen to and they'll come," Goldman recalled saying.
Goldman's fingerprints are also on the physical structure of the grove which is surrounded by stands of eucalyptus and redwood trees. Working with San Francisco landscape architect Lawrence Halprin, Goldman spurred a $15 million renovation of the amphitheater with stone facades designed by Halprin.
"Anyplace you see stone," Goldman said walking along the grove's paths, "didn't exist before."
Amid the eclectic array of music performed over ten concerts each summer, Goldman listed his personal favorites as Patti Austin, Tower of Power and Huey Lewis and the News.
After more than two decades as the chairman of the festival, Goldman decided the time was right to pass the baton — and honored family tradition by picking his twin sons to take over — with Matthew Goldman taking the chairman gig and Jason as treasurer. Goldman said the brothers would likely swap jobs at some point.
"How they work it out between them is up to them," laughed Goldman.
The brothers, who also operate an insurance firm they founded, said their plan is to operate along the same lines as the their father — aiming to book increasingly diverse and modern acts. At the same time, the festival, which is supported by public donations, will continue to feature concerts by the San Francisco Symphony and Ballet in tribute to the grove's original concerts.
"I think it's a special legacy, and a special tradition," Matthew Goldman said. "And it's special for us as family members and descendants of this specific legacy."
Douglas Goldman called the grove and its festival a "jewel in the city's crown" — giving people of any economic means the chance to see a band they love, or discover music they hadn't heard before. Goldman stepped into the middle of the empty grove, marveling at how the same location would be packed dense with music lovers this coming Sunday — which will close the series' 82nd season and mark his last as chairman.
"It's a wonderful connection between human's work and nature itself," he said.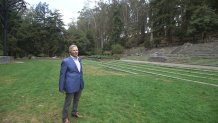 Copyright BAYCN - Bay City News