A popular carnival train and its trailer recently stolen from a Pleasant Hill parking lot were found in Walnut Creek on Monday, according to the owners.
The trailer and train, which is frequently rolled out at children's events around the Bay Area, were found intact, but the owners said they will have to replace a tire on the trailer.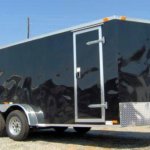 The train was resting in its trailer parked in a parking lot at 3381 Vincent Road in Pleasant Hill when they were stolen sometime late Saturday night or early Sunday morning. The theft was reported Sunday morning by Eric Sossamon, owner of Fun & Games Experts in Pleasant Hill.
Come Monday, the trailer and train had been found at 2333 Boulevard Circle in Walnut Creek.
After Sossamon's daughter posted the story on Facebook, the search for the stolen trailer carrying the train took on a life of its own and leads starting barreling in.
"There was a hashtag about bring the train back," Sossamon said. "I don't know what that means exactly, but I know it was sweet."
Laura McCollum is among those who shared the train post on Facebook and when she showed up for yoga Monday morning she immediately recognized the stolen rig parked in the lot.
"It's magical I was just the one who happened to see it and find it," she said.
Sossamon said people all over the East Bay would know the train if they've been to any number of festivals, including the annual Walnut Creek Art & Wine Festival. The train is usually put out to hire for community festivals, parades and picnics as well as other special events throughout the Bay Area much to the delight of youngsters.
"The kids just light up when they see it," Sossamon said. "We drive around in a circle and they have a big smile on their face the whole time. It's such simple fun. The kids just love it."

The train fits 16 to 20 people and has four cars towed by an engine that runs on electricity, Sossamon said. He said it's worth about $60,000.
Sossamon's company has been around for more than 25 years, he said.
"It just makes me and my family so incredibly happy," Amanda Sossamon said. "This weekend we don't have to disappoint thousands of kids."