Residents of Northern California hunkered down Sunday as a powerful storm drenched the area with yet another round of pounding rain and strong winds.
The latest storm system — the third to hit the area in less than a week — moved across the region late Saturday and early Sunday dropping as much as an inch of rain per hour in some areas, toppling trees and knocking out electrical service to tens of thousands of people, officials said.
With rivers across Northern California swelling from the deluge, the National Weather Service warned that several rivers weStormsre in danger of topping their banks Sunday afternoon or early Monday. Flood warnings were in effect for the Napa and Russian rivers, two rivers north of San Francisco with a history of flooding, as well as the Truckee River, near Lake Tahoe.
"We've been in preparation mode since Thursday," said Barry Martin, a spokesman for the city of Napa. In bracing for the storm, city officials had handed out more than 8,000 sandbags and about 150 tons of sand, Martin said.
The Napa River was expected to surpass flood stage Sunday afternoon, though most of the flooding was expected to be in agricultural areas outside of the city of Napa, officials said. In the end, the flood level was only one foot above flood stage and caused no real damage.
The National Weather Service on Saturday had also forecast the Russian River would reach flood stage in Guerneville, around 32 feet, around 2 a.m. Monday morning, and crest around noon that day at 35 feet. However, after today's storm, that projection was revised and the river is now expected to stay below flood stage, cresting at just over 27 feet around 4 a.m. Monday. The highest recorded flood in Guerneville occurred in February 1986, when the river reached 49.5 feet, according to the National Weather Service.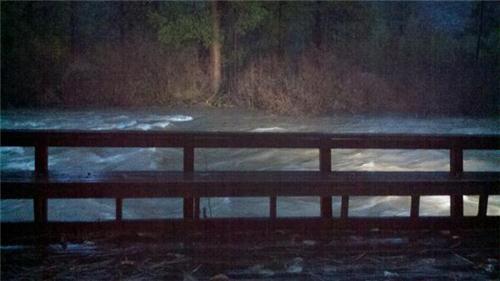 Elsewhere, officials were preparing for flooding near Truckee, Calif. a small town of about 16,000, as the Truckee River neared the top of its banks. But weather officials were heartened by the speed in which the system moved through the area, meaning rainfall amounts could be less than predicted.
And with colder temperatures than expected in the mountains, more snow and less rain was falling.
"I'm not sure by how much it could lower the flood threat yet," said Gary Barbato, a NWS hydrologist said early Sunday.
"Maybe dramatically but we'll have to see," he said. In far Northern California, flood warnings remained in effect Sunday for the Eel, Navarro and Mad rivers.
Meanwhile, around 94,000 people from Santa Cruz to Eureka, including about 21,000 people in the San Francisco Bay area, were without electricity Sunday as the powerful winds from the storm knocked down trees and sent broken tree limbs and branches across power lines, said Pacific Gas & Electric spokesman Joe Molica.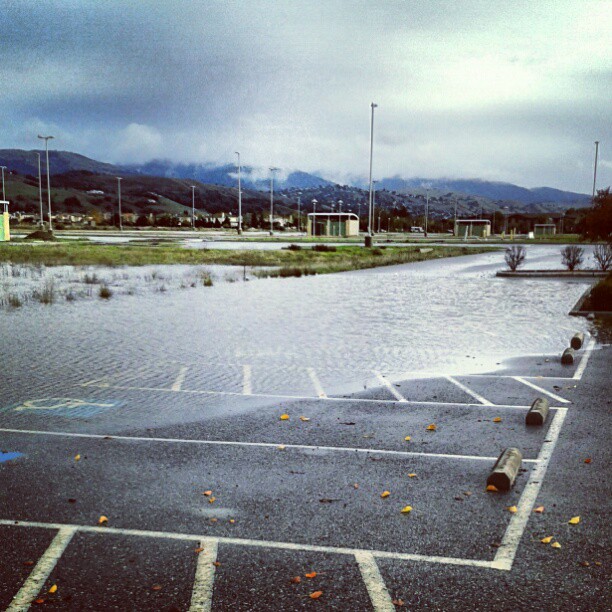 "It really did broadside California," Molica said of the storm. About 2,000 PG&E crews were working Sunday to try to restore power, Molica said. Wind gusts, recorded as high as 60 miles per hour in parts of the Bay area, were blamed for knocking over a big rig truck as it drove over the Richmond-San Rafael Bridge at around 5 a.m. Sunday.
Tow crews had to wait for the winds to subside later in the morning before they could remove the truck, officials said. Also train service on the Bay Area Rapid Transit was disrupted for about an hour Sunday morning because of an electrical outage blamed on the weather.
Copyright AP - Associated Press