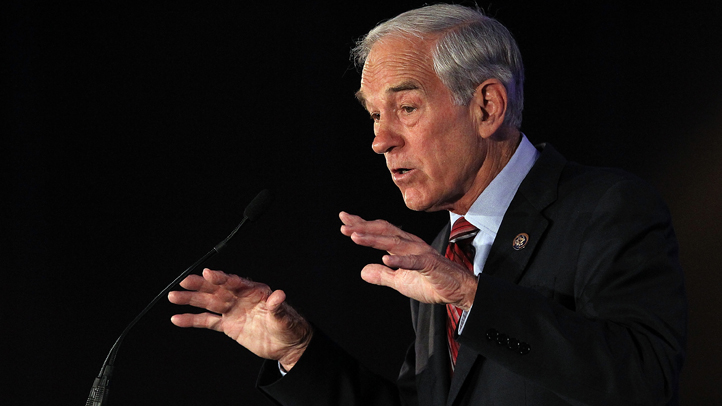 The votes are in, and the winning candidate in last night's state GOP convention straw poll in Los Angeles was self-described Libertarian Ron Paul.
Paul captured a stunning 45 percent of the vote. Rick Perry, a non-attendee, picked up a solid 29 percent, followed by Mitt Romney, another non-attendee, who came in a distant third. Convention participant Michele Bachmann was fourth.

Does this mean that Paul, the perennial presidential dark horse candidate, has emerged as the Republican front runner?

Most likely not, even in unpredictable California.

Still, the Paul victory among the 833 voters may tell us something about Republican activists who, like their Democratic counterparts, tend to express the greatest fervor of their party.

Paul eschews Big Government and all the trappings that go with it. He believes that the Federal Reserve Board should be dismantled along with the IRS, that gay marriage is nobody's business, and that the U.S. should extract itself from all foreign involvement unless America is directly threatened. He also contends that Roe v. Wade should be overturned and that the U.S. should deny all benefits to illegal immigrants.

Many of Paul's beliefs are to the right of all the other Republican candidates. Still, his ideas are closest to those of Rick Perry, who did well in the poll given his absence.

So what's the takeaway?

Like the canary in the coal mine, Paul's popularity may be a warning sign for something potentially
significant. His success signals that state Republicans may be more engaged with the very conservative Rick

Perry candidacy than many may have previously believed. The reasoning is rather straightforward: to the extent that Paul's efforts founder, Perry is likely to be the recipient of his defections.

Given that California has the largest number of delegate votes in the Republican primary, Mitt Romney may want to adjust his campaign schedule in the coming months.
Here's the exact vote count:
RON PAUL 374 VOTES 44.9%
RICK PERRY 244 VOTES 29.3%
MITT ROMNEY 74 VOTES 8.8%
MICHELE BACHMANN 64 VOTES 7.7%
JON HUNTSMAN 17 VOTES 2.0%
HERMAN CAIN 15 VOTES 1.8%
NEWT GINGRICH 14 VOTES 1.7%
THAD MCCOTTER 7 VOTES 0.8%
RICK SANTORUM 7 VOTES 0.8%
GARY JOHNSON 2 VOTES 0.2%
FRED KARGER 1 VOTE 0.1%
WRITE-INS 15 VOTES 1.8%